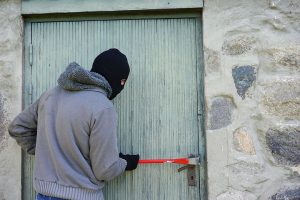 Police recently announced the arrest of three suspects in more than twenty home burglaries in the Falls Road area of northern Baltimore County. The burglaries have placed the entire community on edge since the fall when the crime spree first began. Residents became frustrated over the lack of arrests or leads, and showed up in the hundreds at two separate community meetings to voice their concerns to law enforcement. Just days after the last community meeting in Timonium police caught a break after a witness observed an SUV with North Carolina plates in the area of a recent break in. Officers located the suspicious SUV and began to follow the driver until he pulled over and attempted to flee. This suspect was apprehended shortly thereafter, while the other two were located in the woods after a brief manhunt using helicopters and K9 units to track the suspects. After executing search warrants and speaking with victims police estimate the total value of stolen items to be over a million dollars, and law enforcement is not ruling out the possibility that additional suspects with involvement could remain at large.
All three defendants are being held at the Baltimore County Detention center on numerous counts of first degree burglary. Under Maryland law first degree burglary is defined as breaking into a dwelling or home with the intent to commit a theft, and is classified as a felony with a maximum prison sentence of 20 years. Despite mandates ordering district court judges to impose the least restrictive means to ensure the presence of the defendant at future court hearings all three defendants were denied bail, and now could be forced to wait for weeks or even months in custody until their cases are resolved. The two main factors judges consider at bail review hearings are whether the defendant poses a danger to the community and whether the defendant is a flight risk. In these three cases the bail review judge ruled that both red flags were present, as the state likely argued breaking into homes poses an imminent danger to the community, especially when the homeowners were present as has been alleged in a number of these cases.  Additionally, first degree burglary is considered a violent crime in Maryland under the criminal sentencing policy.  All defendants reside out of state and thus have limited ties to the community, which arguably would pose an elevated flight risk.
At the time of this post all three of the defendants do not have defense attorneys on record, though when they do decide to hire counsel the first matter to address will be their bail situation. It is uncommon for defendants who are not charged with a violent crime or a crime involving a firearm to be held without bail, and with proper preparation a lawyer may be able to convince a judge that release pending trial is justified. While each of the defendants faces a total maximum sentence of over 400 years the sentencing guidelines will call for much less. The three defendants are currently set for preliminary hearings at the end of February in the Towson district court, but the state will almost certainly file charges on these cases in the circuit court by way of indictment or criminal information. The Blog will track the progress of this burglary spree and may post a follow up article in the future so stay tuned.
Benjamin Herbst is a Maryland burglary attorney that handles all types of criminal charges in state and federal court.  Benjamin handles bail reviews and violation of probation cases as well, and is available anytime for a free consultation at 410-207-2598.
Resources
Police Identify Suspects Arrested For String Of Baltimore Co. Break-Ins, baltimore.cbslocal.com.