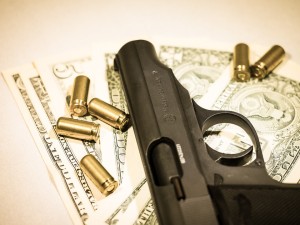 This past week in the Baltimore federal courthouse a 26-year-old defendant pleaded guilty for his involvement in three separate robberies in the Baltimore metro area.  The first robbery took place in October of 2019 at a Baltimore City pharmacy.  In this particular incident the government presented evidence that the defendant and his co-conspirator entered the pharmacy just as it opened in the morning, and while donning masks, gloves and glasses brandished a black revolver and demanded cash from the safe.  The clerk gave the men over $1,600 and then was bound with zip ties while the pair fled in the victim's vehicle.
One month later the two defendants committed a second robbery in Anne Arundel County.  This robbery took place at a retail store, where the defendants entered right at closing time.  Once again, the pair were clad in masks and gloves and carrying handguns.  After taking over $3,000 from the store and striking a victim in the head, the defendants fled the scene in the victim's vehicle.  The final robbery was committed in December of 2019 in Baltimore County restaurant in Parkville.  The defendants entered the restaurant at 7 a.m. just as the shift manager and another coworker were opening for the day, and once again the defendants brandished a firearm and demanded money from the restaurant safe.  After stealing close to $4,000 from the safe and binding the victims with zip ties the defendants fled in one of the victim's vehicles.
One day after the third and final robbery Baltimore County Police detectives located the stolen vehicle and surreptitiously outfitted it with a GPS tracker.  Two days later police followed the vehicle as it moved and eventually attempted to effectuate a traffic stop.  The defendant abandoned the vehicle and then fled on foot, but was then apprehended a short time later on Harford Road.  After being arrested the defendant agreed to speak to police, and claimed he found the stolen vehicle that day and was merely taking it for a joy ride.  Law enforcement officers obviously were not convinced and ended up charging him with robbery, assault in the first degree, motor vehicle taking and felony theft.  The case was forwarded to the Circuit Court for Baltimore County with additional charges for use of a firearm in a crime of violence and CDS drug charges.  In November of 2020 the case was nolle prossed after the feds decided to pick it up.  While the U.S. Attorney's press release does not mention the specifics, the feds were likely alerted after local law enforcement discovered the defendant's involvement in the two other robberies.  A search warrant was executed on the defendant's phone, and law enforcement found pictures of large amounts of cash on the same day as the first robbery.  Cell phone tracking data also showed the defendant was in the area of the first two robberies on the dates in question.