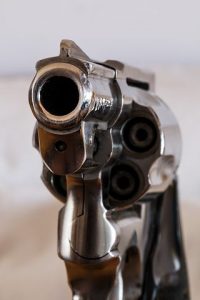 A 27-year-old man from Baltimore was recently sentenced to 14 years in federal prison for committing at least 35 commercial robberies throughout Maryland.  According to the plea agreement, between December 2018 and November 2019 the defendant robbed pharmacies, fast-food restaurants, cell phone stores and even a gym during a crime spree that eventually ended with him behind bars.  The defendant originally pled guilty on October 1 to affecting commerce by robbery, which carries a maximum sentence of 20 years in prison, and brandishing a firearm in furtherance of a violent crime, which has a 7-year maximum penalty.  The robberies took place in Baltimore County and Baltimore City, and were investigated by local police departments as well as the FBI.  The case was likely picked up by the feds due to the extent of the crime spree as well as the presence of a firearm.
Many of the offenses were committed in the same fashion, with the defendant approaching a cash register with a note demanding money and stating that the defendant had a gun.  Fortunately, there were never any shots fired in the robberies, and nobody was injured.  The defendant apparently only brandished his firearm once, though he partially revealed the firearm as many as five times.  In at least one instance the defendant ordered employees to open the business safe, but in many other instances the defendant only made out with a couple hundred dollars.  He stole as much as $1,900 in one robbery, but that appears to be his most lucrative (temporarily) criminal act.
The defendant will likely serve at least 10-12 years behind bars before being considered for release to a halfway house or other type of early release.  There is no parole in the federal criminal justice system, which means this sentence is roughly equivalent to a 20-year state prison sentence.  Anyone sentence to a crime of violence such as robbery must serve at least half of their total active incarceration before being considered for parole, and even then, parole is never a foregone conclusion.  Obviously, the defendant could have faced exponentially more time if had been charged for each of the robberies in the Circuit Court for Baltimore City and Baltimore County.  Combining all the cases in one federal indictment was clearly a more logical option for the government and for the defendant.  The defendant will likely be finished with his sentence before he reaches age 40, and the dozens of victims can have some sort of closure now that the case against the defendant is resolved.  It appears the defendant had a minor history of theft related charges in state court already, so having 35 robberies combined into one global sentence may have been a break for him.
We have posted numerous articles on the feds picking up gun and drug cases throughout the Baltimore Metro area that would typically be tried in state court, but this case was clearly better suited to federal court.  If you or a loved one has been charged with a crime in state or federal court contact Maryland criminal defense lawyer Benjamin Herbst anytime for a free consultation at 410-207-2598.  Benjamin specializes in robbery cases and firearm offenses, and is standing by to fight for you.  He has extensive jury trial experience in both robbery and armed robbery, and has won numerous firearm possession cases.  Benjamin recently prevailed in a case where his client was charged with possession of a firearm by a convicted felon.  The state had offered a plea of 5 years in prison without parole, but Benjamin advised his client to fight the case at jury trial.  After a 3-day trial the jury reached a not guilty verdict in less than 1 hour and the client was released shortly thereafter.  Benjamin handles all other types of criminal offenses including first and second degree assault, theft, burglary and drug distribution, and white collar offenses such as fraud and misconduct in office.  He has represented clients in all jurisdictions in Maryland including Wicomico County, Worcester County and the rest of the Eastern Shore, as well as Anne Arundel County, Prince George's County, Montgomery County, Baltimore and the Western Maryland jurisdictions of Washington and Allegany County.
Resources:
Baltimore Serial Armed Robber Sentenced to 14 Years in Federal Prison for Robbing 35 Businesses, Often at Gunpoint, justice.gov.