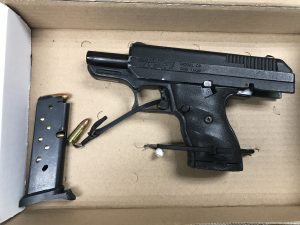 Summer is almost in full swing, and with COVID-19 numbers sharply on the decline thousands of tourists have already started to flock to Ocean City to enjoy the surf and sand.  Tourist season in Maryland's only beachfront town supports hundreds of businesses and creates thousands of jobs, but it also brings a dramatic increase in crime.  Most of the offenses are non-violent in nature and occur in the overnight hours when family vacationers are back in their hotels, but the crime does not go unnoticed.  Year after year the local, county and even state government has made a point to address rising crime in Ocean City, and recently have developed special event zones to combat street crimes.  But increased boardwalk patrols and the threat of arrest can only do so much to deter criminal activity.  Last week was a perfect example of this, as three teenaged defendants were arrested on gun charges after police attempted to break up a large disorderly crowd in downtown Ocean City.  Fortunately, the disturbance did not escalate to an especially violent incident, but based on the police officer's alleged observations it appears escalation was only narrowly avoided.
According to the Ocean City Police Department, a bike patrol officer that responded to the disturbance observed a 19-year-old Baltimore man in the back of a vehicle actively loading a semi-automatic handgun.  As officers were in the process of detaining the passenger and arresting him for multiple firearm charges, another teenaged male approached and allegedly became hostile toward the police and tried to interfere with the arrest.  This young man turned out to also be 19 but hails from Pennsylvania.  These two young men were both arrested and taken to the Ocean City jail for processing along with an 18-year-old female that was the driver of the vehicle in question.
The defendant from Baltimore was charged with loaded handgun on person, handgun in vehicle and possession of a firearm by a person under 21.  The Pennsylvania defendant was charged with handgun in vehicle and several additional charges for his alleged interference with the police including obstructing and hindering, resisting/interfering with arrest, assault second-degree of a law enforcement officer, disorderly conduct and reckless endangerment.  Both male defendants were initially held without bail by the District Court Commissioner and then released on $50,000 bail when seen by a judge the next day.  The female.  defendant was released on her own recognizance by the commissioner.  All three co-defendants have a trial date on August 3, 2021 in the Ocean City District Court.