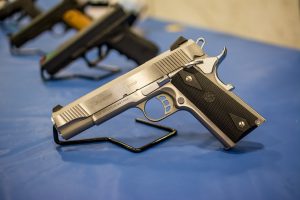 The House and Senate approved Senate Bill 1 and House Bill 824, and both will almost certainly become law on October 1, 2023.  House Bill 824 did not receive much fanfare, but will further tighten Maryland's already strict gun laws.  The Bill, which was introduced by a Delegate who also serves as an Assistant State's Attorney in Anne Arundel County, expands prohibitions on regulated firearm possession under the Public Safety Code.  Starting in the Fall anyone who is one supervised probation for an offense that carries a maximum penalty of 1 year or more in jail will not be able to possess a firearm.  The new prohibition also includes those on probation for DUI or DWI under the §21-902 (a) and (b) of the Transportation Article.  Defendants on probation for violating a protective order would also be prohibited from possessing a regulated firearm.  This provision only applies to individuals who are placed on supervised probation after being convicted, which means that those granted probation before judgment would not be subject to a charge under the Public Safety Code for possessing a firearm while on probation.  It is important to remember that those on supervised probation are typically prohibited from possessing firearms unless a judge specifically allows it.  This is standard condition of probation in Maryland, though a violation would be considered a technical probation violation and not a new offense.  Technical violations of probation carry a presumptive maximum penalty of 15 days in jail, while a violation of this new provision in the Public Safety Code would be a misdemeanor with a 5-year maximum penalty.
House Bill 824 also prohibits a person from obtaining a Maryland wear and carry license if he or she has been convicted of a violation of criminal law section 4-104, which prohibits storing or leaving a loaded firearm in a place where an unsupervised minor could gain access to the firearm, and an injury or death resulted.  If there was no injury the prohibition would only extend to a person convicted of a second or subsequent violation of this provision.  Offenders who receive a conviction for child's access to firearms after October 1, 2023 will have to wait five years from the date of the conviction to apply for a handgun permit.  The bill also raised the permit fee to $125, up from $75.
Senate Bill 1 received most of the media attention, and will likely continue to create news headlines after it becomes law in October.  We wrote about this bill previously, and the version that passed the General Assembly was not substantially altered from our last post.  This law will have major restrictions on where licensed individuals can possess firearms, including prohibiting possession at schools, concerts, sporting events, organized youth and adult sports leagues and state government buildings.  A violation under this new law would result in a misdemeanor that carries up to 90 days in jail for a first offense, and up to 15 months for each violation thereafter.  Firearm possession is already illegal in federal facilities and buildings in Maryland under federal law regardless if a person holds a Maryland concealed carry permit.