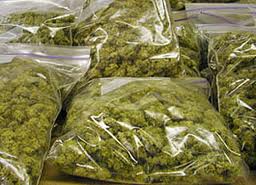 The legalization of marijuana in Maryland will have a much broader reach than simply eliminating the prosecution of marijuana possession cases.  Perhaps the largest collateral consequence of legalization is the effect it will have on law enforcement's ability to search a vehicle.  Even after marijuana possession was decriminalized police officers in Maryland maintained the ability to search a car based on the odor of marijuana. Police lost the ability to search a person and his or her belongings, but vehicles have been fair game.  In fact, a police officer can technically initiate a traffic stop based on the odor of marijuana, without even observing a traffic violation.
A massive number of criminal cases start with the search of a suspect's vehicle.  Traffic stops are some of the only up-close encounters citizens ever have with police, and thus law enforcement agencies train their officers to take full advantage of these encounters.  Police are trained to identify individuals who are likely to be engaged in criminal activity, and then to continue to develop them as suspects.  Officers are permitted to initiate a traffic stop even if their ultimate goal is to obtain probable cause to search a vehicle.  Pretextual stops, where officers wait for a vehicle to commit a minor traffic infraction with the larger goal of investigating a more serious offense, have always survived constitutional challenges.  At the present time one of the most common ways to bridge pretextual and ordinary traffic stops to a probable cause search is the smell of marijuana.  These stops account for a great deal of arrests for gun and drug possession cases, but the legalization of marijuana looks to throw a wrench in this common law enforcement tactic.
When marijuana becomes legal in Maryland on July 1, 2023 it will no longer be considered contraband and thus cannot be used to justify a criminal detention and search.  This is something that law enforcement agencies and prosecutors have been planning for, but there is currently no policy in place that actually states a police officer will not be able to perform a search after smelling burnt or raw cannabis.  It would have been a major waste of resources to simply do nothing and wait for a defendant to challenge a search in court.  This path would have forced the Supreme Court of Maryland to establish the policy, but clearly having the legislature enact a law would be the preferred option.  House Bill 1071 does just that, and after passing easily (99-34) in the House is headed for a vote in the Senate.