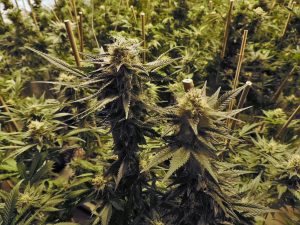 Recreational marijuana use will officially become legalized in Maryland this weekend, but there are still numerous limitations on who can purchase and where it can be consumed.  The most important and impactful provision of the law that becomes effective on July 1 is that adults over the age of 21 can lawfully purchase and possess marijuana.  Over the last decade the state has become increasingly lenient in regards to pot possession.  It began with the implementation of the medical use provision, which offered a defense to those charged with marijuana possession who were using it for medical purposes.  Lawmakers then decriminalized small amounts of marijuana but kept possession over 10 grams a crime.  Currently possession of anything less than 2.5 ounces is illegal, but only punishable by a civil citation.  On Saturday though, an adult of age can possess up to 1.5 ounces of marijuana flower or 12 grams of concentrate and be completely within the bounds of the law.  Possession of more 1.5 to 2.5 ounces of flower 12 to 20 grams of concentrate could soon trigger a a civil infraction punishable by a fine of up to $250.
Possession of larger amounts of marijuana will still be a crime in Maryland despite legalization going into effect on July 1.  Specifically, possession of more than 2.5 ounces of flower or more than 20 grams of concentrate will be a criminal offense that is punishable by potential jail time.  This offense will be called possession of marijuana over civil amount, and starting this weekend will be punishable by up to 6 months in jail.  Despite marijuana becoming legal, 21 or older will still not be permitted to smoke cannabis in a public place in Maryland.  Violation of this provision is treated as a civil infraction punishable by a fine, but certain municipalities may decide to enact code that is stricter.  This would be done in a manner that is similar to what Ocean City has done with possession of an open container of alcohol or drinking in public, which actually carries up to 90 days in jail.  This municipal ordinance violation allows police to make an arrest in cases where a person's return to court is not likely.  Unfortunately, Ocean City police officers have taken advantage of their ability to make arrests on open container cases in the past, and we hope they do not continue this practice with smoking cannabis violations.  There is no provision about consuming marijuana edibles, so it would not be a violation to eat cannabis products in public.  Impaired driving laws will not be affected by the legalization of marijuana, and we can expect law enforcement agencies will continue to train their officers on the signs drug impairment.
On July 1, adults in Maryland will also be allowed to grow up to two cannabis plants as long as there are out of public view and not accessible by unauthorized individuals under the age of 21.  The limit is two per household even if there are two or more adults living in the same home.  Cannabis plants can only be grown if by the property owner or with the property owner's consent.  Violation of this provision could trigger a manufacturing charge that carries up to 3 years in jail and a $5,000 fine.  Selling or distributing marijuana will continue to be illegal in Maryland, and punishable by a misdemeanor that carries up to 3 years in jail.  However, police will have tighter restrictions when assessing whether to charge possession with intent to distribute.  Mainly, possessing 2.5 ounces or less of marijuana is presumed to not be a crime unless there is direct evidence of intent to distribute.  Adults are permitted to share, gift, or transfer marijuana to one another without breaking the law under the "adult sharing" subsection.  Maryland law prohibits a person under the age of 21 from possessing or using marijuana without a medical cannabis card.  Cards are available for adults 18 and over, and for minors under the age of 18 with a parent or guardian's approval.  Charges for possession of a large amount (more than 50 pounds) and importation of marijuana (45 kilograms) are so far not being modified in response to legalization, and still carry a potential 5-year mandatory sentence.