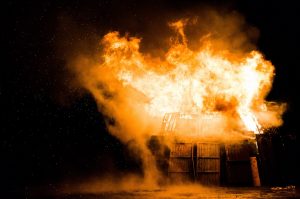 It has been almost four years since a popular neighborhood bar in Pasadena burned down and was permanently shuttered, and now an end to the criminal case that followed is in sight.  A 36-year-old man from the same Anne Arundel County neighborhood as the bar recently pled guilty to a federal arson charge after being indicted back in September of 2019.  He now faces a minimum of 5 years in prison and a maximum of 20 years for his actions, and will learn his fate in July when the case is set for sentencing at the Baltimore federal courthouse.
Law enforcement officers likely made the initial determination that the fire was incendiary or set deliberately while the wood building was still smoking, though the bizarre details surrounding the fire unfolded in the weeks that followed.  Investigators from the ATF and the Anne Arundel County Fire and Explosives Investigation Unit confirmed their suspicions about an intentional fire by locating charred remains of homemade explosive devices and traces of gasoline, which is a common accelerant in arson cases.  Law enforcement officers were also able to view surveillance footage that captured several flashes of light preceding areas of the building catching fire that were likely the incendiary devices making contact with the building.  A police K9 unit was also able to locate the presence of gasoline on the other side of a fence that surrounded the bar, which was determined to be the area where the makeshift explosive devices or Molotov cocktails were ignited and thrown.  Finally, law enforcement recovered a glove that contained both traces of an accelerant and the defendant's DNA.
The case against the defendant quickly became open and shut, but the motivation for his actions is what made this case bizarre.  According to the plea agreement and Maryland public case search records, the defendant was charged with a domestic second-degree assault and a petty theft for an incident that occurred outside of the bar about a week before the fire.  This assault was captured on the bar's surveillance cameras, which the defendant attempted to destroy by setting fire to the whole building.  The irony in this situation is twofold, as a police officer actually witnessed the assault, thus making the surveillance cameras a bonus rather than an essential part of the assault case.  In addition, the surveillance system not only survived the fire, but recorded the defendant's actions on the night of the fire.  The defendant ended up pleading guilty to the assault in the Circuit Court for Anne Arundel County in Annapolis, and was given a 3-year suspended sentence.