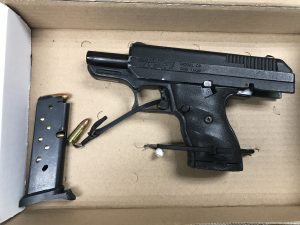 One Baltimore man was sentenced and another recently pleaded guilty to the federal charge of illegal possession of a firearm in a school zone.  Both cases were prosecuted at the Baltimore City federal courthouse, and both defendants were originally chaeged in state court before the feds took over.  The first defendant, a 22-year-old man, was arrested back in March of 2021 for possession with intent to distribute fentanyl and firearm charges.  Law enforcement including the DEA recovered multiple firearms and upwards of 6 kilograms of fentanyl from a Pikesville stash house that was tied to the defendant.  The defendant's case was transferred from the District Court to the Circuit Court for Baltimore City, but then was dismissed after the feds decided to prosecute.  There is rarely one specific reason why the feds choose to pick up a state case, but when a defendant is arrested in the city with a combination of fentanyl and firearms its certainly going to attract their attention.  Federal prosecutors have been focusing on fentanyl cases in the Baltimore and D.C. metro areas over the last couple of years, and had already been heavily involved in prosecuting illegal firearm possession.  Any time both are present there is a good chance the case will be picked up by the U.S. Attorney's Office.  In this particular case the young man received a 9-year federal prison sentence for illegal possession of a firearm in a school zone and possession with intent to distribute a controlled substance, which means he will likely serve close to 8 years behind bars. There is no parole in the federal criminal justice system, so early release can only be granted based on the defendant's conduct and the availability of re-entry programs.
Shortly after the first defendant was sentenced, another Baltimore man pleaded guilty to the sole charge of illegal possession of a firearm in a school zone.  This defendant, a 31-year-old man, was apparently riding around the city on his bicycle with a construction hat, orange safety vest and a loaded .40 caliber handgun sticking out of his waistband.  A call for a potentially armed man was made to Baltimore Police, who were able to locate the suspect on city watch CCTV cameras a short time later.  Officers then stopped the suspect for riding his bicycle on the sidewalk, which is violates a city ordinance.  The man then allegedly tried to flee but was found a short time later knocking on the door of a random house.  Upon detaining the suspect, police located the .40 handgun, which had an obliterated serial number and 15 rounds of ammunition.  The suspect then uttered several spontaneous statements claiming ownership of the firearm.  This case could easily have been prosecuted by the Baltimore City State's Attorney's Office, but the feds likely picked up the case due to the defendant's proximity to a school upon his arrest.  The Gun Fee School Zones Act of 1990 made it a federal crime to possess a firearm within 1,000 feet of a school, and despite being modified several times over the last few decades, the law is still very much intact.  Violation of this provision is a felony punishable by up to 5 years in federal prison, which is significantly harsher than the 3-year penalty for wear, transport or carry a firearm under Maryland law.  The defendant in this case negotiated a plea deal to serve two years in prison, so he is likely not a convicted felon or otherwise prohibited from possessing a firearm.
The Blog will continue to follow all noteworthy drug and gun cases in Maryland, and will post on federal prosecution of traditional state charges.  If you or a loved one is facing adult or juvenile criminal charges contact Maryland gun lawyer Benjamin Herbst anytime for a free consultation at 410-207-2598.  Benjamin specializes in charges involving possession with intent to distribute CDS such as heroin, fentanyl, cocaine and marijuana.  He also has extensive experience defending clients facing probation violations and gun charges such as possession of a firearm by a convicted felon and possession of a firearm in a federal facility.  Contact Benjamin today to learn what defenses may be available in your state or federal case.  Benjamin is also licensed to practice in Florida, where he has successfully defended clients in numerous offenses such as drug trafficking, carrying a concealed firearm and aggravated assault.
Resources:
Baltimore Man Pleads Guilty to Federal Charge for Illegal Possession of a Firearm in a School Zone, justice.gov.