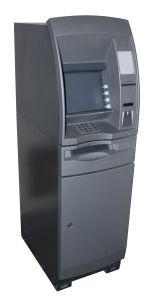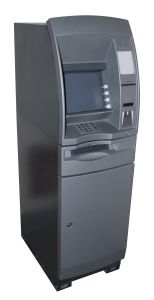 Baltimore County Police recently arrested a 34-year-old man for attempting to steal an ATM from a bank in Owings Mills.  According to reports, police responded to the bank around 3:30 in the morning for a burglary in progress.  Officers found a truck backed up to the bank with chains wrapped around the ATM, and a suspect who immediately fled upon police arriving.  The suspect was apprehended after a short chase through the woods, and subsequently charged with multiple crimes including felony second-degree burglary and felony theft.  He also faces charges for malicious destruction of property and misdemeanor fourth-degree burglary.  The defendant was denied bail by a District Court judge and remains incarcerated at the Baltimore County Detention Center in Towson.  He does not currently have a trial date, as the case will likely be indicted in the circuit court prior to the January 28th preliminary hearing.  This arrest created additional headlines because it turns out that the defendant was actually a Baltimore City Department of Public Works employee.  The truck used in the burglary is also owned by the city, and was recently reported stolen in Carroll County.  The front license plate and city's emblem on the vehicle were concealed with tape during the attempted burglary, but clearly the secret is out.
It appears that the defendant may also be facing a probation violation in the near future for a case out of Baltimore City, which could have contributed to him being held without bail.  In 2014 he was found guilty of armed robbery and use of a firearm in a crime of violence, and sentenced to 20 years with 10 suspended.  Following his release from the division of corrections he was placed on 5 years of probation.  A defendant serving a 10-year sentence for a violent offense typically serves 5 to 7 years before being released.  Since the offense occurred in September of 2012, he was probably released from prison in 2018, which means his probation is likely still active.  As of today, there is no information on Maryland judiciary case search that states a violation of probation warrant was issued, though Baltimore City is notorious for not updating their cases promptly.
The Blog will follow this case as it travels through the county court system, and may post a follow-up article in the future.  The defendant faces up to 15 years in prison for the  second-degree burglary charge, while the felony theft charges carries up to 5 years in jail.  He also faces up to 3 years each for fourth-degree burglary and malicious destruction of property over $1,000.  There were some questions raised as to how a person currently on active probation for armed robbery was hired by the city, but our hope is that those with criminal convictions will always have job opportunities upon their release, as stable employment is a key factor in reducing recidivism.  The Blog will also continue to follow theft and burglaries involving ATMs, as there has been a string of these cases lately in Maryland.  This past week in Baltimore City four defendants backed a van into a building, loaded the ATM and fled the scene.  The building in this case was severely damaged, and suspects are yet to be identified.
If you or a loved one has been charged or is being investigated for a crime, contact Maryland criminal defense lawyer Benjamin Herbst anytime for a free consultation.  Benjamin specializes in violations of probation as well as theft and burglary charges.  He also handles offenses such as malicious destruction of property, armed robbery, home invasion and use of a firearm in a crime of violence.  Benjamin has successfully represented defendants in every county in Maryland including Anne Arundel, Worcester, Wicomico, Baltimore, Washington, Prince George's and Montgomery Counties.  He has also represented numerous defendants in the Greenbelt and Baltimore federal courts, as well as on military bases such as Joint Base Andrews and Aberdeen Proving Ground.  Call 410-207-2598 for a free consultation about your case today.
Resources
Baltimore DPW employee arrested in connection with attempted ATM burglary, wbaltv.com.