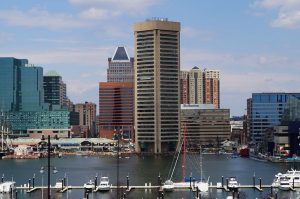 The Baltimore City State's Attorney was indicted last week by a federal grand jury on two counts of mortgage fraud and two counts of perjury, and will now be forced to see the criminal justice system from the opposite side for the time being.  The indictment comes just a few months before the primary election, which in Baltimore City decides who will sit as acting State's Attorney for the next four years.  The City's top prosecutor has shown no signs of stepping down and through her attorney has vigorously denied the allegations.  Anyone looking for a quick resolution to this matter may be in luck, as the defense is attempting to move the case along as quickly as possible.  Numerous Baltimore City public officials have been prosecuted by the U.S. Attorney's Office over the past decade, including two mayors, dozens of police and correctional officers and other local politicians.  This particular case was investigated by the FBI and the criminal investigations unit of the IRS, and while the allegations certainly seem serious, a conviction for any criminal activity is far from a foregone conclusion.
The city prosecutor has been under investigation since at least spring of 2021, though the details released back in March only informed the public that a federal grand jury subpoenaed her campaign and bank records.  It is unclear at this point whether this indictment ended that investigation, or whether the feds are waiting to present additional charges to a grand jury.  The indictment accuses the prosecutor of perjury by lying on an application and unlawfully withdrawing funds from a Deferred Compensation Plan designed to help those who had experienced financial hardship due to the impact of COVID-19.  Federal prosecutors pointed out that the prosecutor did not experience financial hardship, and that her salary as State's Attorney actually increased during the pandemic.  The prosecutor's lawyers responded to these claims stating that she sustained financial losses to businesses unrelated to her public position.  In other words, her salary increased, but she suffered enough losses in her other business ventures to justify applying for the pandemic aid.
The mortgage fraud charges are slightly more complicated, and are related to two homes the prosecutor and her husband purchased in Florida.  The feds are arguing that when applying for mortgages she failed to disclose a lien that was placed on a property belonging to her husband as a result of $45k in overdue taxes.  There is another allegation that the prosecutor made a false assertion on a mortgage application.  The government is alleging she failed to disclose an agreement with a vacation home management company in order to secure a lower rate.  Defense lawyers for the prosecutor have asserted the prosecutor did not knowingly omit the tax lien, and that the notices sent by the IRS were not received.
The Baltimore State's Attorney faces up to 5 years in prison on each of the perjury charges, and up to 30 years in prison on the mortgage fraud charges.  At this point it is way too early to tell how likely it is that she will serve even a day, but the collateral consequences of this indictment may prove almost as severe.  While the prosecutor is apparently not considering stepping down, a conviction for any one of these offenses would likely result in losing her license to practice law.  The Blog will obviously follow this case as it progresses through the stages of federal criminal case.  The first step in an initial appearance, which will happen in the next few weeks.  If you or a loved one has been charged with a crime anywhere in Maryland contact criminal defense attorney Benjamin Herbst for a free consultation at 410-207-2598.  Benjamin specializes in white collar crimes such as misconduct in office, fraud, counterfeiting and theft, and is available 7 days a week to discuss your potential defenses.
Resources:
Baltimore City State's Attorney Facing Perjury and False Mortgage Application Charges Related to Her Purchase of Two Vacation Properties, justice.gov.