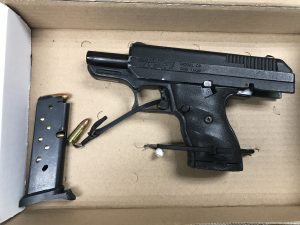 A 37-year-old man from Baltimore City was recently sentenced to 9 years in federal prison after he pleaded guilty to gun and drug charges.  After serving his sentence, which under federal law does not have the possibility of parole, the defendant will be placed on 3 years of supervised release.  This case is another example of a crime that was originally charged in state court, but eventually picked up and prosecuted by the feds.  There does not appear to be any indication that the defendant was a large-scale dealer or that he had been under investigation by law enforcement, and there were no aggravating factors that made this violation particularly egregious.  On the other hand, the feds have consistently been delivering the message that any felon who possesses a firearm in Baltimore will be subject to federal prosecution, and thus a harsher sentence.  9 years without parole is certainly a harsh sentence for a non-violent offense, but it is hardly a surprising sentence considering the climate in Baltimore right now.
According to the plea agreement the man and several associates were standing on a city sidewalk when a vehicle containing Baltimore Police detectives drove by.  As the BPD patrol unit made a U-turn to approach the group, the defendant apparently walked away from the group in a manner that seemed to indicate he was armed. Police stated the defendant kept his "right arm stiff against his body" as he walked away, which is a common phrase that law enforcement uses when attempting to establish justification for a weapons search.  Detectives then exited their vehicle and began to walk toward the defendant, likely to conduct a pat down for weapons.  The defendant elected not to cooperate with whatever the BPD was attempting to do, and he took off running.  Police stated that the defendant threw a firearm with his right hand while he was running away, and they eventually apprehended him in the area.  Upon placing him under arrest police discovered 42 capsules of heroin, 33 capsules of fentanyl, 29 vials of cocaine and several baggies of marijuana.  They also eventually found the handgun along with an extended magazine that was discarded during the chase.
This case presents an interesting issue regarding the legality of so-called proactive police patrolling in urban areas.  Clearly the officers were not specifically looking for the defendant, and there is no indication they received a tip that the individuals on the sidewalk were armed.  Rather, the police were acting on their own suspicions when they made the decision to approach the defendant.  Had the defendant remained where he was or simply walked away from law enforcement, there may have been an argument that any detention was illegal.  An illegal detention would have triggered a potential motion to suppress the gun and the CDS found on the defendant, but the fact that he fled effectively ended any realistic constitutional challenges to the police conduct.  The law is very clear that a person is not seized by law enforcement if he or she takes off running upon their approach.  Additionally, a person does not have any constitutional standing to challenge the seizure of items that are thrown away or abandoned by a suspect.  Running from police is not illegal by itself, but as soon as this defendant was observed throwing a gun and a magazine there was probable cause to arrest him.  Only then could police lawfully detain the man and search him incident to arrest.  This case played out like many have in the past, and unfortunately there was not much the defense could do but argue for a lower sentence.
The Blog will continue to follow this case and other case involving federal prosecution of gun and drug charges.  Benjamin Herbst is a Maryland criminal defense lawyer who specializes in firearm possession, drug possession and possession with intent to distribute.  He has successfully tried cases before a jury involving possession of a firearm by a convicted felon and wear, carry or transport of a handgun, in addition to securing numerous acquittals for drug charges.  Benjamin has represented dozens of out-of-state clients in gun charges who are unfamiliar with the harsh Maryland laws, and assures they are treated fairly.  He handles cases in all Maryland federal and state courts including Montgomery County, Baltimore County and Prince George's County.  He also has extensive experience defending clients in Salisbury, Cambridge and Worcester County, as well as in Hagerstown and Frederick.  Contact Benjamin at 410-207-2598 for a free consultation about your case anytime.
Resources:
Felon Caught with Narcotics and Handgun Sentenced to Nine Years in Prison for Possession of Firearm, justice.gov.