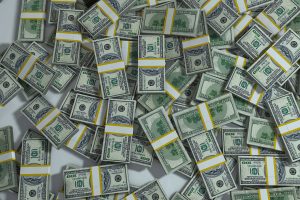 This past week Anne Arundel County Police were called to a gas station in Linthicum Heights for a bizarre attempted robbery that ended with the suspect fleeing the scene empty handed.  According to police a man approached a gas station clerk just before midnight on the eve of July 4th and requested cigarettes.  After requesting the smokes, the man then allegedly placed a cup on the store counter and demanded that the clerk put all the money in said cup.  There was no indication that the man ever brandished or possessed an actual weapon, but the clerk apparently told police the suspect implied that he had a weapon.  The brief standoff ended when another customer walked into the store, which apparently spooked the attempted robber.  Reports described the suspect as being slim, of average height and sporting a blonde beard.  He was wearing a hood and a camouflage hat and fled in a silver Honda with another individual.
While this attempted robbery was hardly the crime of the holiday weekend, it does raise a few relevant issues regarding the definition of robbery and armed robbery.  Under Maryland law there is no separate statutory crime for attempted robbery or attempted theft as a defendant faces the full punishment even if the crime is unsuccessful.  In fact, murder is one of the only charges that provides a separate statutory crime for attempt.  Robbery requires the State to prove the defendant intentionally took something of value from another person through the use of force or the threat of force.  A defendant does not have to take a tangible object to be charged, as obtaining services through the use of force is also considered robbery.  Maryland has specific laws for six different types of robbery.  The most common is standard robbery, which is a felony that carries a maximum penalty of 15 years in prison.  Robbery is considered a level 4 offense according to the Maryland sentencing guidelines, which means a person with no prior record who is found guilty could still certainly avoid serving any time in jail.
Armed robbery is actually called robbery with a dangerous weapon in Maryland, and it carries a 20-year maximum penalty.  Robbery with a dangerous weapon is considered a level 3 offense, which scores significantly higher on the sentencing guidelines.  Juveniles 16 and over who are charged with robbery with a dangerous weapon must be charged as adults, which is not the case with standard robbery.  Carjacking is also technically part of the robbery statute, and it carries a harsh 30-year maximum penalty.  Armed carjacking carries the same 30-year maximum, but is considered a level 2 offense.  Finally, the least common of the six is robbery by display of a written instrument claiming to be in possession of a dangerous weapon.  This offense is treated like robbery with a dangerous weapon regardless of whether a weapon was recovered by police.  It has a 20-year maximum penalty, and is typically seen in bank robbery cases.  A defendant in any type of robbery case could also be charged with conspiracy if there was another person involved.  Conspiracy makes the offense a misdemeanor, but does not change the maximum penalty.
If the suspect in the cup robbery case were ever to be apprehended the police would likely charge him with robbery, but a good defense lawyer would have a lot to work with.  First, there was no indication that the suspect actually used forced or the threat of force, so his actions may not have even amounted to a crime.  This would ultimately be a question for the jury, but simply demanding money and holding out a cup without more is a weak case to say the least.  The clerk allegedly said the suspect implied he was armed, but there does not seem to be any evidence supporting a claim for robbery with a dangerous weapon.  In Maryland a person does not have to be in possession of a weapon to be charged with armed robbery, but there would have to be a note or other written communication to support this charge.