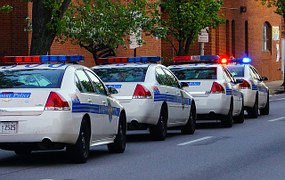 Yesterday the United States Attorney's Office for the District of Maryland announced the guilty plea of a 25-year-old Baltimore man who committed a robbery while on supervised release for another federal crime.  According to facts presented in the guilty plea, back in January of this year the defendant attempted to rob a convenience store in Baltimore City.  The store clerk refused to comply with the defendant's demand for money, whereupon the defendant displayed a gun from within his waistband.  Off-duty Maryland State Police officers responded to the scene shortly after the store manager called 911, and were joined by Baltimore City police officers minutes later.  The defendant was detained by law enforcement officers, and search incident to arrest revealed a loaded 9mm handgun in the defendant's waistband.  Security cameras inside the store captured the entire incident on video, making the guilty plea the only reasonable choice for the defendant.
The 25-year-old defendant now faces up to 20 years in federal prison for the federal robbery charge, which is codified as attempting to interfere with interstate commerce by robbery.  Robberies are generally prosecuted in state court, but the federal government can obtain jurisdiction over virtually any commercial robbery committed in the U.S.  This most commonly plays out for bank robbery cases due to the fact that banks are insured by the FDIC, and also gun stores that are licensed to do business by the federal government with a FFL (federal firearms license).  But the Commerce Clause allows the feds to obtain jurisdiction over other business that have a potential customer base from multiple states.  The question is whether it's possible – not likely that a local convenience store in Baltimore City is frequented by individuals from across the country.
Sentencing for the defendant in the federal robbery charge is set for September of this year, though he also must answer for the violation of supervised release.  Supervised release is the federal term for probation, as there is virtually no difference between the two.  Supervised release simply occurs after a defendant has been released from a term of incarceration.  The federal justice system no longer uses suspended sentences; rather when a defendant violates probation or supervised released, he or she could face up the maximum remaining prison sentence upon a guilty finding of a violation.  For example, a defendant sentenced to 5 years on a robbery charge could face up to 15 years upon if found in violation of supervised release.  In Maryland state court, most judges impose suspended sentences to cap the amount of time that could be imposed in a violation of probation, but some judges simply suspend the maximum and decide an appropriate sentence should the defendant violate.  Any defendant who receives a probation before judgement (PBJ) faces the maximum penalty upon a violation of probation.  There are exceptions including whether the violation is considered non-technical or technical.  In Maryland state court, technical violations have a presumptive non-binding cap of 15 days for a first violation.  Technical violations include positive drug tests, failing to complete treatment or failing to pay restitution.  Non-technical violations include missing more than one probation appointment and/or committing a new offense.  Many defendants believe new arrests are the only non-technical violations but this is not true, as it is just as common for defendants accused of absconding to receive some or all of their back up time.
If you have been charged with a criminal offense, including federal offenses such as robbery or possession of a firearm by a convicted felon, contact Maryland criminal defense lawyer Benjamin Herbst anytime for a free consultation at 410-207-2598.  Benjamin specializes in defending violations of probation and violations of supervised release and offers free consultations and flexible payment plans.  Contact Benjamin today to learn what defenses may be available in your VOP or new criminal case.  Benjamin is also licensed to practice law in Florida, and has extensive experience with juvenile crimes, weapons offenses, probation violations and battery.
Resources:
Felon Faces 20 Years in Federal Prison After Attempting to Rob a Baltimore Convenience Store While on Supervised Release for a Previous Federal Conviction, justice.gov.