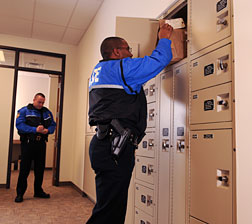 Starling news came out of Towson two weeks ago when a 20-year old police cadet was arrested for multiple drug and theft crimes. The story became even more compelling when the public learned the alleged crime was committed at Baltimore County Police headquarters. The cadet now stands accused of stealing thousands of dollars of seized cash and narcotics, which were being held in the department's evidence locker. Among the cadet's ten charges are theft between $10,000 and $100,000 and possession with intent to distribute narcotics, both of which are felonies. The cadet's case is tentatively set for a hearing in district court later this month, but the case will almost certainly be brought before a grand jury in circuit court sometime in the next couple of weeks, and an indictment is sure to follow. It is not entirely clear how a cadet with little experience gained access to the secure evidence locker without any supervision. There is apparently full video surveillance of the locker and regular audits of its contents, but whatever the department's security measures were, they were no enough to deter or stop the cadet from completing the theft. The impact of this embarrassing incident stretches far beyond the accused and the police department, as potentially dozens of unrelated criminal cases in the county may be affected as well.

The cash and drugs were in storage, waiting to be used by the police and the state's attorney's office in the event that the cases these items were tied to ended up in trial. Now the assistant state's attorneys may be forced to alter their trial strategies in numerous cases, and in one prescription fraud case the state has already dismissed all charges. The cadet's alleged criminal acts have presented prosecutors and defense lawyers with unique issues in each of the cases where evidence has gone missing. The prosecutors now have a constitutional Brady obligation to disclose information about the missing evidence to defense counsel. But this does not necessarily mean that the state will have to drop all of the cases, and defense attorneys will not simply be able to prevail by filing pre-trial motions. The prosecution is not required by any evidentiary rule to present physical evidence in a drug possession case, just as they are not required to present a body in a murder case. The state could conceivably meet their burden through the testimony of a police officer and a printout of a lab report, although this undoubtedly makes the state's case weaker, as any experienced defense attorney would argue that missing evidence creates reasonable doubt.
While it is too early to know for sure, the police may be able to recover and identify some of the evidence, and match it up with the case where it was seized. But even if the evidence is recovered for some of the cases, it will likely be deemed inadmissible due to chain of custody issues. If physical evidence goes through a period of time where it was unaccounted for, then the rules say it may be tainted and unreliable, and therefore inadmissible in court. The Blog will follow both the cadet's criminal case, and other cases that were affected by the stolen evidence, and another article may be warranted in the near future.
Benjamin Herbst is a theft lawyer who handles cases in all state and federal jurisdictions in Maryland. Contact Benjamin for a free consultation about your case.
Resources
Drug Case Dropped After Baltimore County Police Cadet Allegedly Stole Evidence, baltimore.cbslocal.com.