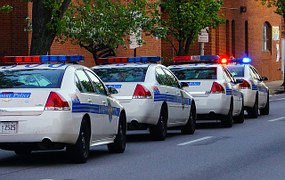 A federal jury recently found two former Baltimore Police officers guilty of robbery and racketeering after a two-week trial, and both now face up to 60 years in prison when they return to court for sentencing. The convicted officers join six others who already pled guilty over the last few months, which brings the total to eight corrupt cops that were part of a disbanded police unit dubbed as the gun trace task force. Four of the officers that previously pled guilty were called as witnesses for the government and testified against their former colleagues, no doubt in an attempt to secure lighter sentences for themselves. In addition, a former member of the task force that refused to engage in criminal activity and later transferred out of the unit testified for the government. The government called numerous victims, many of whom were admitted drug dealers who were robbed, beaten and threatened by the task force cops. Prosecutors also produced body camera footage and wire tapped conversations dating back to 2015 when the federal investigation first began after the DEA heard incriminating statements by an officer during a wiretapped conversation on a suspected drug dealer's phone.
The case turned out to be a truly lopsided affair where the government was able to prove the corrupt cops stole cash, drugs and guns, falsified police reports and search warrant affidavits, lied about worknhours to inflate their salaries, and broke into houses of residents under the guise of legitimate law enforcement activity. The shamed officers were also accused of providing security for large drug deals in exchange for compensation and failing to provide aid to individuals that were hurt in a high-speed car crash that had no legitimate law enforcement purpose. One of the only reasonable arguments presented by the defendants were that the crimes amounted to theft and not robbery and racketeering, which had been alleged by federal investigators, but the jury thought otherwise and convicted each defendant of the highest charged offenses.
The trial may be over and the news trucks have left the Baltimore federal courthouse for the time being, but the effects of this scandal will be felt for years to come. The city already has a new police commissioner and the head of internal affairs has since been reassigned. Hundreds of prior convictions are subject to being overturned and the State's Attorney's Office is coming under scrutiny for prosecuting cases were the corrupt officers were involved. It has been alleged that the credibility of many of the task force cops had been called into question long before the federal investigation became public, but prosecutors pursued their cases anyway. In Annapolis one state delegate proposed that the entire police department should be disbanded and reformed as a new entity, which is exactly what took place in Camden, New Jersey. The mayor of Baltimore brushed off the call for disbanding the police department and maintains that the corruption was limited to a small number of few bad apples. While disbanding won't happen at this point, it is telling just how bad the situation has become downtown. The justice department issued a scathing memo to the BPD back in 2016 and will continue to monitor the way BPD conducts business. If new allegations of corruption resurface you can bet that the federal government will be the first to step act.
Benjamin Herbst is a Maryland criminal attorney that handles cases in Baltimore and all other jurisdictions in the state. He specializes in drug crimes, robbery and assault, and his clients have been acquitted in numerous felony jury trials including human trafficking, drug distribution and first degree assault. Contact Benjamin anytime for a free consultation at 410-207-2598.
Resources
Baltimore detectives convicted in shocking corruption trial, www.washingtonpost.com.