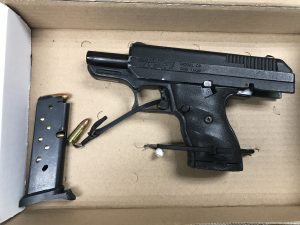 Federal prosecutors have a reputation for taking on the largest and most complex criminal cases, and recent news headlines have done nothing but support this reputation. In the last few months the feds have convicted one of the largest drug traffickers in history, placed the entire college and amateur basketball world on notice and publicly shamed Hollywood actors for engaging in university admissions scandals. It seems no case is too large, but when it comes to guns in Baltimore no case is too small either. The U.S. Attorney's Office recently announced that a 24-year old Baltimore man pleaded guilty to unlicensed gun dealing and possession of a firearm by a convicted felon. This case was not tied to any other federal indictment, and the defendant was not part of any large-scale criminal conspiracy that the feds typically prosecute. There were no bank robbery, drug trafficking or gang related RICO claims against the defendant. The facts were straightforward and the case could have been prosecuted by the State of Maryland in the Baltimore City Circuit Court, yet the federal government decided take over.
This particular defendant, who had a prior conviction for first degree assault from 2015, pleaded guilty in Howard County to a separate gun related offense in the fall of 2017. Sentencing on the Howard County case was set for the winter of 2018 and the defendant was out of custody, presumably getting is affects in order before he began his sentence. Before the sentencing hearing, a violation of probation warrant from the original assault case became active, and Baltimore Police officers were sent to serve the warrant. Upon initiating a traffic stop the defendant fled from his vehicle and was arrested after a brief pursuit. A handgun was recovered along the path where the defendant allegedly fled. After this arrest law enforcement obtained a search warrant for the defendant's social medial accounts and discovered numerous references to illegal gun sales, which prompted the feds to assume prosecution of the case. The 24-year old was sentenced on the two Howard County cases where he received the full backup time for the violation of probation and five years for the unlawful firearm possession case. He now faces up to 15 years in federal prison for the case where he recently pleaded guilty.
Regular readers of the Blog are well aware of federal government's increased involvement with Baltimore City gun cases. It has become clear over the last decade that the local government simply cannot control violence in the city. It's not just the murder rate, which is the highest among any major U.S. city but also the shootings, robberies, burglaries and carjackings that are all at critical levels. For the most part people just do not feel safe in Baltimore, and the population is declining as a result. The city is also having trouble hiring new police officer and retaining its own.
While we are still waiting for an effective solution to Baltimore's rising crime rate, one plan seems to focus on keeping gun offenders in custody. This applies to those awaiting trial and those who have already been convicted. If you are arrested for a gun offense, even misdemeanor gun possession, in Baltimore the chances are that the State will ask for you to be held without bail. Many of the district court judges will go along with this request, and for justification will say that guns are dangerous and those who possess guns are a threat to the community. In some instances a no bail hold may be justified, but in most it is not. In cases involving a felon in possession of a firearm the federal government will offer to take over the prosecution to assure the defendant serves the most amount of time. Increased federal and state involvement in Baltimore City crime prevention will continue until there is a significant downturn in violence, and the Blog will continue to update as new strategies are implemented. For questions, or if you have a pending criminal charge anywhere in Maryland contact defense attorney Benjamin Herbst for a free consultation. Benjamin specializes in state and federal gun charges such as felon in possession of a firearm and possession by a disqualified person under the public safety code.
Resources
Felon Pleads Guilty to Federal Charges of Unlicensed Dealing in Firearms and Illegal Possession of Firearms and Ammunition, justice.gov.