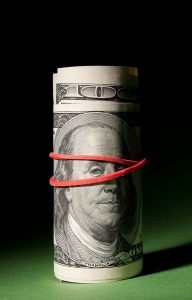 Federal law enforcement recently announced that a major drug ring in suburban Maryland has been busted up, and numerous arrests have been made. In total, 18 people were arrested in the bust, and as many as 15 have already been charged with conspiracy to distribute more than two thousand pounds of marijuana and various other drugs. The federal grand jury indictment included information, which led federal officers to believe that the Anne Arundel County drug ring distributed cocaine, prescription pills, steroids, as well as large amounts of pot. As many as 250 federal agents participated in multiple raids that reportedly resulted in the seizure of 30 cars, 60 pounds of marijuana, upwards of 300 thousand dollars cash, and multiple guns. The seizures are not even close to complete as the U.S. Justice Department is seeking the court's approval to confiscate over 10 million dollars in cash, multiple real estate properties, bank accounts, cars, and business assets.
The yearlong investigation that led to the recent bust began rather fortuitously for law enforcement. Last year around this time, a Glen Burnie man was involved in a serious car accident, and upon arriving on the scene police found over a pound of marijuana and a money counting machine. Cops also found papers detailing the operation, which ultimately spear headed the investigation. Over the next 12 months federal authorities learned about a highly complex interstate organization that was complete with stash houses to store the drugs, and shell corporations to launder the profits. Cops also learned that the drugs were shipped, driven, and even flown to Baltimore from California and New Jersey. Authorities reported that the alleged traffickers were bold enough to fly the drugs into BWI airport during the operation.

Most of the defendants are from Maryland but four hail from other states. The instate defendants were mostly from Anne Arundel County, but at least one calls Baltimore County home. Additional charges are still pending, but it seems that most will face drug trafficking charges, conspiracy to commit drug trafficking, money laundering, and possible weapons charges. The drug trafficking and conspiracy charges are punishable by life in prison, while money laundering is punishable by up to 20 years. This bust appears to be one of the largest in the state in some time, and due to the widespread and complex nature of the operation, it is likely that this investigation was passed on to the federal government early on. State police agencies typically work with federal agencies such as the FBI and DEA in larger drug bust such as this, but law enforcement has yet to release specifically which agencies were involved. There is no word yet on the sentences that any of the defendants will receive, but as is true in most federal conspiracy cases, the parties that decide to cooperate first will be given leniency. Whether any of the defendants will decide to fight the charges remains to be seen, but a tough road certainly lies ahead for each judging by the amount of evidence seized, and the length of the investigation.
Benjamin Herbst is a Maryland drug lawyer who specializes in possession, sale, and trafficking of all controlled dangerous substances. Contact Mr. Herbst at 401-207-2598 for a free consultation about your case.
Resources
Eighteen arrested in suburban drug conspiracy, baltimoresun.com