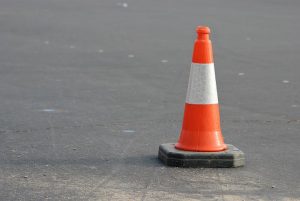 Maryland State Police recently arrested a man who was waiting in line to take his driving test at the MVA headquarters in Glen Burnie, and charged him with numerous drug felonies.  The 23-year old from Baltimore was in his mother's vehicle awaiting his turn with a driving instructor when an MVA employee noticed the smell of marijuana coming from the car.  An MSP trooper responded to the scene and initiated a warrantless search of the vehicle based on probable cause that it contained marijuana.  The trooper's suspicion was confirmed and then some, after he located a large plastic bag containing approximately 1 pound of marijuana, a 9 millimeter handgun, a digital scale and more than $15,000 cash. The man was arrested immediately after the contraband was discovered and taken before a commissioner.  He was released that same day on an unsecured $7,500 personal bond.
The young man now faces a dozen charges in Anne Arundel County including possession with intent to distribute and possession of marijuana over ten grams. The maximum penalty of PWID marijuana is 5 years, though recent changes to the sentencing guidelines have decreased the amount of jail time most defendants actually see for this offense. Nowadays it is rare for a first time offender to serve much if any jail time unless he or she is involved in a large-scale operation.  The concerns for the defendant in this case are the gun charges, especially the crime of possession of a firearm during a drug trafficking crime.  A conviction for this felony charge carries a minimum five-year prison sentence, which cannot be suspended and the defendant is not eligible for parole.  The defendant is also charged with the less common crime of firearm use during the commission of a felony that also carries a mandatory five years, but is a misdemeanor. Other gun counts include handgun on person and handgun in vehicle, which are essentially the same crime with the same 3-year maximum penalty.
The 9-millimeter Glock that was seized from the car allegedly had an altered or scratched out serial number, and this is a separate crime under the public safety code.  Under Maryland law anyone found to be in possession of a gun with an altered serial number is presumed to have altered it.  Finally, the defendant in this case was also charged with possession of a detached magazine with over ten rounds.  The controversial Firearms Safety Act now limits the capacity of gun magazines to ten bullets, which makes many common firearms illegal in Maryland including the standard military Beretta pistol.  The Blog will follow this case as it progresses through the court system.  It is currently set for a preliminary hearing in district court, but the State will likely indict the case and it will be transferred to the circuit court in Annapolis. We will post an update if anything of interest happens in this case.  If the defendant is found guilty or enters a plea, the sentence will depend on whether he has a prior record of gun, drug or other criminal charges.  If you have a question about a criminal case in Maryland or have been charged with a crime feel free to call gun crime attorney Benjamin Herbst anytime at 410-207-2598.  Benjamin specializes in gun and drug charges in state and federal court and offers flexible payment plans for all types of cases.
Resources
Maryland man waiting to take driver's test arrested after drugs, gun found in car, police say, fox5dc.com.