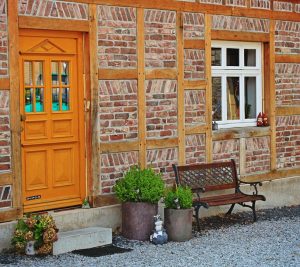 Online shopping has never been more popular, but the convenience can come at a price. Like the old days, the preferred method of delivering a package to a single family home or townhouse is simply to leave it at the front porch. The inherent flaw of placing potentially valuable packages in plain sight of those walking or driving by is outweighed by the cost of repeat delivery attempts for companies like Amazon and UPS, and the unfortunate result is that package theft has become commonplace. We blogged about a string of package thefts in the Pikesville area of Baltimore County a few years ago, but until now this crime of opportunity has largely stayed out of the news. Last month a package theft in Harford County made national headlines, but not for the reasons you might think.
On November 30th a five-year old girl was caught on camera taking a package from the front porch of another person's Abingdon home, and the video quickly spread throughout the country. As you might expect, the girl appeared to be looking off to her side at someone for direction, and this someone was revealed less than 2 weeks later after an anonymous tipster identified the young girl. Police filed charging documents for a 46-year old Baltimore man on December 14 and a warrant was issued for his arrest that same day. There are currently four charges including theft, conspiracy to commit theft and 4th degree burglary. The defendant was also charged under the Courts and Judicial Proceedings Article for contributing to certain conditions of a child, which makes it a crime to encourage a child to commit an illegal act. This offense carries a 3-year maximum penalty and a $2,500 fine.
Fourth degree burglary is charged when a suspect either breaks and enters a dwelling (home) or store, or is alleged to have entered the yard or garden of a dwelling with the intent to commit a theft, like in this case. This is the only misdemeanor burglary offense, and it carries a 3-year maximum penalty. First, second and third degree burglary are all felonies with maximum punishments ranging from 10 years to 25 years if violence is involved. The suspect in this case was charged with theft less than $100 because the package he stole contained a pair of boots valued around $90. This offense carries a 90-day maximum sentence, as does conspiracy to commit theft less than $100. The conspiracy charge is peculiar from a legal standpoint, as the State would basically be saying the defendant conspired with a 5-year old. This charge will almost certainly be dropped by the State.
After the warrant became active the search for the package thief didn't last long, as the suspect was arrested in Baltimore County on January 1st. He was then transferred to the Harford County Detention Center and appeared for a bail review on January 4th. A district court judge ordered that he be held without bail, which isn't exactly common for a local defendant facing only non-violent misdemeanor charges. On the other hand, the judge did not take lightly the fact that the defendant allegedly used an innocent 5-year old girl to commit the cowardly act. The defendant must now wait in custody until his trial date on January 24th in the Bel Air District Court. The Blog will continue to follow this case and may post a follow up article after the trial date, though the defendant would be wise to request a jury trial and have his case moved to the circuit court.
Benjamin Herbst is a Maryland criminal defense lawyer that specializes in theft and burglary charges in all jurisdictions across the state including Baltimore County and Harford County. Contact Benjamin anytime for a free consultation about your case at 410-207-2598.
Resources
Man who instructed 5-year-old daughter to steal package off porch identified, wmar2news.com.