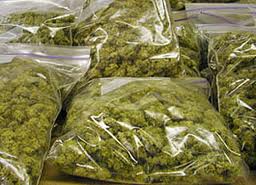 Anne Arundel County police officers recently executed a search warrant of an Annapolis home and recovered a massive stash of controlled substances. The stash was large in both volume and in variety, as police seized over 11 pounds of high quality marijuana as well as a large quantity of cocaine. Cops also discovered smaller but still significant amounts of LSD, ketamine, heroin and hash oil. Two men were arrested as a result of the search and seizure, which took place at around 3 in the afternoon. Charging documents allege that one of the men jumped out of a second story window and attempted to flee upon becoming aware of the police activity. This man, who lives in nearby Severna Park, allegedly threw a vial of ketamine into a neighbors yard before surrendering to law enforcement. The other defendant who lived at the house surrendered more quietly after opening the door for police. Both men are in their mid twenties and are now facing charges in the District Court for Anne Arundel County in Annapolis.
Although the two men were arrested together their current legal situations are much different. The 25-year old Severna Park man was released from custody and faces two misdemeanor drug possession charges, while the 23-year old remains in custody, and is facing a slew of felony charges. Some of these charges carry potential mandatory jail sentences that may come into play as the case moves to the Circuit Court. The felony charges consist of four counts of CDS possession with intent to distribute for each of the different types of drugs that were recovered. This includes one charge for possession with intent to distribute narcotics that is related to the cocaine, one count of possession with intent for the LSD, one for the marijuana and one for the ketamine.
The 23-year old defendant is also facing two counts of CDS possession large amount, which is a provision related to the drug kingpin laws that are aimed at deterring high-level drug trafficking. Under this statute the defendant is facing the possibility two five-year mandatory sentences for the cocaine and LSD that was recovered. The amount of cocaine required to trigger this charge is 448 grams and the police allegedly recovered 526 grams, and one thousand or more doses of LSD qualifies as a large amount under Maryland law and the police allegedly seized 1,800 doses. There was far more marijuana allegedly recovered in the Annapolis home that anything else, but the 11 pounds were way short of the 50-pound threshold for a CDS possession large amount pot charge.
In October of this year the minimum mandatory prison sentences for repeat offenders of the laws prohibiting possession with intent to sell or distribute will be reduced to two years, but the 5-year mandatory sentence for possession of a large amount will remain. In addition, those serving a sentence for a large amount charge will not be permitted to enter drug treatment under 8-507 until the mandatory time has been served. In contrast, come this October a defendant serving a mandatory sentence for drug distribution may enter a program under 8-507 and 8-505 prior to finishing his or her mandatory sentence. This may change in the coming years, so stay tuned to the Blog or contact The Herbst Firm for any updates on our state's drug laws.
Benjamin Herbst is a criminal defense lawyer that specializes in drug trafficking, possession with intent to distribute, CDS possession of a large amount and all other drug crimes. Contact Benjamin for a free consultation about your case anytime at 410-207-2598.
Resources
Police: Home on Broadneck Peninsula had nearly $175K worth of drugs, 2 arrested, capitalgazette.com.