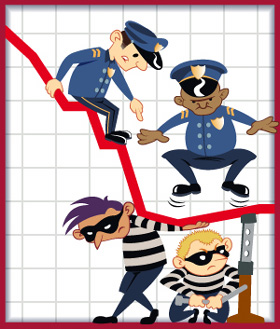 The 2014 legislative session has come to an end, and with it went the daily criminal law related news stories coming out of Annapolis. We enjoyed keeping our readers up to date on the dynamic marijuana policy proposals, and will continue to follow the progress of our new laws. But the Blog must now move on without the legislature in session, and for our first post we will turn our attention to the relatively benign topic of ranking the safest places to live in Maryland. The idea to write about this particular topic came from an article written by a national residential real estate company, who regularly blogs just like we do. The company, Movoto, just published an article, which ranks 35 different places in the state by how safe they are. While the article does provide some insight, it must be taken with a grain of salt. So before you cancel your vacation to Ocean City this summer (OC ranked last out of the 35 in safety) it is necessary to take a closer look at these rankings.

The most important thing to understand about Movoto's rankings is that they only used statistics kept by the FBI in 2012 for incorporated cities. Many of the populated areas in the state are unincorporated census designated cities that do not have their own governments. Examples of these areas are all of Baltimore County, and other large areas such as Bethesda and Silver Spring in Montgomery County, and Columbia in Howard County. The list is does not give a complete picture of where the safest areas really are, but this is not the fault of the author of the article as data is limited. Some of the safest areas according to Movoto are Hampstead and Taneytown, and like most incorporated cities in Carroll County are both relatively small. Bowie comes in as a top ten safest place, which is significant because it is one of the largest incorporated cities in the state. With a population of over 55,000, Bowie only reports about 142 violent crimes per 100,000 people. This means that about 1 out of every 700 people could experience a crime of violence. In contrast, Baltimore City reported a violent crime rate of 1,405 per 100,000, meaning an average of 1 out of every 80 people could be a victim. Other larger cites such as Annapolis, Frederick, and Westminster have this same statistic at about 1 out of every 200.
The government of Ocean City is certainly not pleased with Movoto's article, which was picked up by a few local news stations. The article concluded that Maryland's favorite and only beach resort has similar violent crime numbers, and much higher property crime numbers than Baltimore City. The OC government does have a reason to be miffed, because the article entirely fails to take into account the large influx of tourists that visit the city in the summer. The city has population of just over 7,000 residents, but during the summer months there can be as many as 200,000 tourists roaming around the boardwalk, or cruising up and down Coastal Highway. These 200,000 tourists are the reason crime numbers spike, but the FBI statistics still view OC as the small sleepy beach town, which it only really is from October to April. If you looked at the crime statistics for the offseason chances are the numbers would be more similar to Hampstead than to Baltimore. And we know firsthand, as we rarely get calls to handle Ocean City cases in the dead of winter.
Benjamin Herbst is a criminal defense attorney who handles all cases, including drug crimes and violent crimes in Maryland. Benjamin practices in all areas of the state including Baltimore and Ocean City, and is available at any time for a free consultation.
Resources
These Are The 10 Safest Places In Maryland, movoto.com.