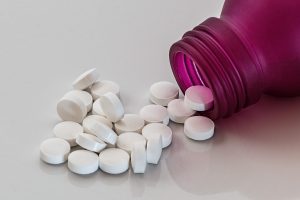 This week the Maryland State Police arrested two motorists on drug charges after conducting a traffic stop shortly after midnight on Interstate 97.  The stop occurred near the Benfield Boulevard exit in Millersville, which is right by the Anne Arundel County Police headquarters and criminal investigations buildings.  Upon stopping the vehicle for an alleged traffic violation, the trooper discovered that the 32-year-old female occupant from Dundalk in Baltimore County had four outstanding arrest warrants for drug charges.  A search of the vehicle allegedly produced 11 grams of heroin, 42 grams of crack cocaine, 48 Xanax pills, drug paraphernalia and cash.  Both suspects were then arrested on multiple drug charges and booked into the Anne Arundel County detention center.  MSP did not divulge exactly how the officer obtained probable cause to search the vehicle, but based on the circumstances the most likely sources of PC to search were the outstanding warrants for the female suspect's arrest.  Anyone with an outstanding warrant can be arrested, and then searched incident to that arrest.  In traffic stops the vehicle can also be searched and inventoried pursuant to the arrest.
The 39-year-old male defendant from Pennsylvania was charged with two counts each of misdemeanor drug possession and felony CDS possession with intent to distribute, as well as an additional drug paraphernalia charge.  He was seen by the commissioner and then released on a $15,000 bail.  This defendant appears to have lengthy criminal history, which may create a difficult situation for his defense once this case goes to court.  Judiciary casesearch shows at least three prior convictions for drug felonies in Baltimore County.  When you add in the prior violation of probation the defendant's guidelines for a PWID narcotic charge would be at least 4-8 years, and that's factoring in a potential reduction due to the age of the prior cases.  His guidelines could end up being as high as 7-14 years, which is a big number even at the bottom.  The guideline ranges for street level narcotics distribution charges are excessive to say the least, especially when compared to violent offenses such as robbery and assault, but that's a post for another day.
The female defendant did not fare as well, and is still being held in the detention center.  She was charged with the same counts as her co-defendant plus an additional charge for prescription fraud under Maryland law 5-701, which appears to be related to allegedly removing or altering the label on the bottle of Xanax.  On top of that, she apparently gave either a fake name or fake ID to the trooper in an attempt to avoid being arrested on the warrants, and was subsequently charged with fraudulent personal identification to avoid prosecution under Maryland law 8-301.  Both of these fraud related charges are misdemeanors, but the latter will certainly raise concerns for any judge at bail review.  Possessing fake identification and/or using fake names is an act the state always argues makes the defendant a flight risk.  The defendant was in fact held without bail at her bail review in the Annapolis District Court just this morning.  She must now wait for her attorneys to file a motion to reconsider her bail status at some point in the future, or wait for her case to be transferred to the circuit court where she would be entitled to an additional bail review.
The Blog will continue to follow this case, and all other cases regarding CDS and fraud violations in Maryland.  If you or a loved one has been charged with any offense, contact Maryland drug crimes lawyer Benjamin Herbst anytime for a free consultation at 410-207-2598.  Benjamin has successfully defended hundreds of clients in drug charges ranging from misdemeanor possession and prescription fraud to felony drug importation and manufacturing.  He specializes in possession with intent to distribute and possession of a firearm in a drug trafficking crime, as well as all other types of gun and drug charges.  Benjamin is also an experienced Maryland bail review lawyer, who fights for the release of defendants in both district and circuit court.  State laws have become increasingly harsh for firearm charges and charges involving heroin and fentanyl, but Benjamin is standing by to explain the defenses that may be available in your case.
Resources:
Maryland State Police Arrest Two On Drug Charges Following Traffic Stop In Anne Arundel County, news.maryland.gov.