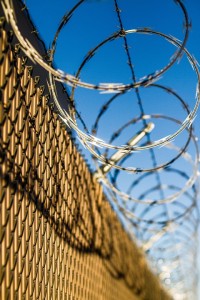 A father and daughter recently pled guilty to federal racketeering charges stemming from an ongoing prison corruption scheme that took place back in the summer of 2017.  According to federal prosecutors a 28-year old woman and her 55-year old father were recruited by a family member who was serving a Maryland state prison sentence to smuggle contraband into an Anne Arundel County correctional facility.  The medium security prison going by the name of MCIJ is located in the Jessup area on the border of Anne Arundel and Howard Counties, and houses about 1,100 male inmates.  One inmate happened to be a 29-year old who used his father and sister to obtain and package contraband, bribe correctional officers and manage the proceeds of the illegal contraband trade within the prison.  The 29-year old inmate also pled guilty for his involvement in the conspiracy and previously admitted that he was the leader.
The evidence mentioned in plea hearing consisted of recorded jailhouse phone calls between the inmate and his family members discussing meetings with corrupt prison employees.  The calls also contained conversations with other co-conspirators where money was exchanged in order to smuggle various controlled substances into the facility.  The controlled substances included Percocet and Ecstasy, which can either come in pill or powder form and easily be concealed inside clothing or on the person.  Suboxone was also mentioned as one of the controlled substances, which typically is manufactured on small sheets of paper that can be easily concealed.  Recent Maryland laws have restricted the types of books that are allowed to pass through prison security due to the ease that these substances can be transported on paper.  Tobacco and synthetic marijuana were other forms of contraband that were smuggled into the jail by the co-conspirators.  These items have little value on the street, but inside a secure prison facility can be worth 5 to 10 times their street value.
Both defendants are scheduled for sentencing hearings in March, while 29-year old ring leader has yet to be given a sentencing date.  Whether the sister or the father will be sentenced to prison time themselves depends on a variety of factors including their specific involvement in the scheme, how cooperative they were with law enforcement and whether either has a prior criminal record.  The judge may examine how much each of the individual defendants actually profited off the scheme, as defense lawyers will likely argue the defendants never would have committed the criminal acts absent immense pressure from the incarcerated family member.  Other factors that may be relevant include the length of the conspiracy and how many times, if ever, either defendants tried to end involvement with the scheme.
Racketeering under federal criminal law 18 U.S. 1961 is one of the most powerful tools along with wire fraud that prosecutors have at their disposal.  It has a broad definition and includes any pattern of criminal activity with a maximum penalty of more than one year under the state law where acts occurred.  Racketeering gives federal prosecutors jurisdiction over criminal schemes that normally would have been exclusively litigated in state court.  It also raises the maximum penalty of criminal acts that would have been misdemeanors or less serious felony charges.  Federal prosecutors would not have had jurisdiction to charge these defendants for distribution of narcotics, as the conspiracy exclusively took place in Maryland, and on state property.  Racketeering carries a maximum penalty of 20 years in federal prison, whereas a charge such as introducing contraband into a correctional facility is a misdemeanor under state law.  State prosecutors could have pursued charges for distribution of narcotics under state law, but the actual sentence would likely have been much less severe under state law if the defendants were in fact first time offenders.
The Blog will continue to follow this case, and all other notable federal prosecutions in Maryland.  For questions about any of the laws mentioned in this article feel free to contact Federal criminal defense lawyer Benjamin Herbst anytime at 410-207-2598 for a free consultation.  Benjamin represents defendants charged with racketeering, wire fraud, distribution of narcotics and introduction of contraband in all Maryland jurisdictions.  He also represents defendants facing charges in the state of Florida.
Resources:
Father and Sister of Inmate Plead Guilty to Federal Racketeering Charge Related to Maryland Correctional Institution Jessup, justice.gov.