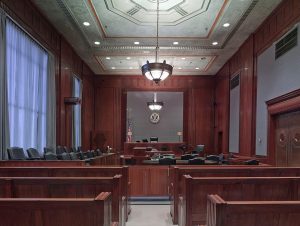 Next week four defendants will be brought to trial at the Baltimore County Circuit Court for their alleged involvement in a stabbing that resulted in the death of a 45-year-old man.  The incident occurred in February of 2021 in the parking lot of a Dundalk restaurant and bar, though arrests were not made until April of 2022.  Six individuals were initially charged with first-degree murder, conspiracy to commit murder and first-degree assault, but one was cleared a short time later.  Two of the defendants were ultimately released from custody pending trial, and three remain held without bail.  One of the defendants who was released from custody has agreed to testify as a state's witness, and this week, lawyers for the remaining four defendants engaged in heated arguments over late evidence and evidence that the State neglected to disclose.  Despite numerous evidentiary issues, the case remains on track to be tried beginning on May 1.  The cooperating witness' trial is scheduled separately in June, and assuming he testifies per his agreement with the State, he will likely enter into a favorable plea agreement.
Despite the incident occurring in 2021 and being originally charged in 2022, state prosecutors decided to file a superseding indictment just two weeks ago that added charges of accessory after the fact to murder in the first degree for some of the defendants.  This became a major issue for the respective defense teams, who now have to scramble to adjust their defenses to account for the new charges.  The state claimed the late charges were due to unavoidable delays related to the FBI's cell phone location data crime lab.  The state maintained that they turned over the evidence as soon as it became available, though far too late in the eyes of the defense lawyers.  Cell phone tracking data is often difficult in interpret and can require an expert to explain to
 laymen such as jurors in a criminal case.  Defense lawyers argued that securing an expert could take weeks if not months, and therefore the late cell phone data should be excluded.  Typically, when the state provides late evidence, the remedy would be to postpone the case, but when defendants are sitting in jail this becomes extremely prejudicial.  No defendant should have to sit in jail awaiting trial longer than necessary, and unfortunately in a Maryland murder case there is a low chance that the judge would consider releasing a defendant due to a state's postponement.
In advance of next week's trial the four defendants were offered plea deals in open court.  One defendant was offered a deal to plea to second-degree murder, which carries a maximum sentence of 40 years in prison.  This is the individual who was alleged to have actually stabbed the victim.  The state said it would be asking for the maximum penalty should the defendant enter a plea, though he would be free to argue for a lesser sentence.  This particular defendant has a criminal record and his guidelines call for a sentence of 25-40 years.  The other remaining defendants were offered plea deals to accessory after the fact of murder in the first degree, which carries a maximum penalty of 10 years in prison.  The state said it would be arguing for prison time in all three of these cases.  In order to prove accessory after the fact to murder, the state must prove that a murder actually occurred.  Therefore, if no defendant was convicted of murder, no defendant could be convicted of accessory.  Accessory after the fact can be charged for offering aid to a defendant after the commission of a crime has been completed.  Under Maryland law there is no crime for being an accessory after the fact to a misdemeanor, as the law only deals with felony offenses.
The Blog will continue to follow this case and may post a follow-up article after the trial has concluded.  If you or a loved one is facing criminal charges in Baltimore County or any other jurisdiction in Maryland contact criminal defense lawyer Benjamin Herbst anytime for a free consultation.  Benjamin specializes in accessory after the fact, murder and attempted murder, first-degree assault and all other crimes of violence including robbery, carjacking and domestic assault.  He is available seven days a week at 410-207-2598, and is also licensed to practice criminal defense in federal court and in the state of Florida.