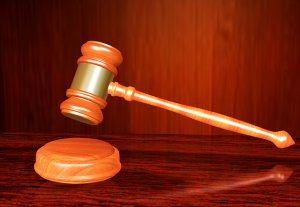 The notorious Anne Arundel County arson case that has spanned more than 4 years has finally come to a close, as the defendant received his sentence late last week.  On Friday at the Baltimore City federal courthouse the 36-year-old defendant from Pasadena, Maryland was sentenced to 9 years in prison followed by 3 years of supervised release.  He was also ordered to pay more than $500 thousand in restitution for his role in burning down a popular neighborhood bar.  The man was charged under 18 U.S. Code § 844 (i), which makes it a federal offense to maliciously damage or destroy any real property used in interstate or foreign commerce by fire or explosives.  The maximum penalty for this offense is up to 20 years in prison that includes a 5-year mandatory sentence.  If any person is injured, including a public officer such as a firefighter, the maximum penalty becomes 40 years with a 7-year mandatory term.  Unfortunately, a firefighter was actually injured while attempting to extinguish the blaze after he was thrown off a ladder by the force of a backdraft.
The Blog detailed the facts of this case in a previous post back in April when the plea was announced, so we won't go over the entire case again.  The basic facts were that the defendant was charged with second-degree assault and theft for an incident that occurred at the bar 6 days before the fire.  He apparently returned to the bar in an attempt to destroy the surveillance equipment that he believed would incriminate him in the assault case, but ended up burning the entire bar down except for the cameras he sought to destroy.  So, not only was the assault captured on the surveillance, but he was also on video making Molotov cocktails and throwing them at the bar.  ATF trained K9s also located the presence of gasoline (a common accelerant used in incendiary devices) in the area where the defendant was standing on video.
The defendant ended up being found guilty of the assault in the Circuit Court for Anne Arundel County and was given a three-year suspended sentence.  The theft charge was nolle. prossed by the state as part of the plea agreement, although the defendant was found guilty of another unrelated theft that occurred a few weeks after the fire.  He will now serve upwards of 7.5 years behind bars before being released to state and federal probation.  Although the exact guideline range that the defendant was assigned is not discussed in the U.S. Attorney's press release, the base offense level for malicious destruction of property by fire appears to be at least 24.  There were aggravating factors that elevated his guidelines including the fact that the fire was started in an attempt to conceal evidence of another offense, which adds two levels.  By our estimation it seems the defendant received a sentence at or near the top of the guidelines.
Another issue that this case brings into play is the broad jurisdiction that the feds maintain over any case involving explosives.  This incident did not occur on federal property, which is why the defendant was not charged with federal arson.  On the other hand, malicious burning by fire or explosive is just as severe a charge.  The feds likely prosecuted this incident under the theory that the bar was real property used in interstate commerce, and it's virtually impossible to refute this.  Had explosive devices not been used the case may have been prosecuted under state law, though the ATF would likely still have been involved from the beginning.  If the case had been charged under Maryland state law the defendant would have faced second-degree arson and destructive device charges in addition to lesser offenses such as malicious destruction of property.  He still would have been sentenced to prison upon conviction, but likely would have served at least a few less years.
Benjamin Herbst is a Maryland criminal defense lawyer who specializes in arson, malicious destruction of property, burning with intent to defraud, malicious burning and possession or use of a destructive device.  He has successfully defended both first-degree arson and second-degree arson at jury trial, and is experienced in all aspects of fire science and Fire Marshal investigations.  Contact Benjamin today at 410-207-2598 for a free consultation about your case anytime, 7 days a week.
Resources:
Maryland Man Sentenced to Nine Years in Federal Prison for Arson Related to a 2017 Fire that Destroyed a Pasadena Bar, justice.gov.