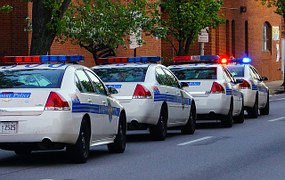 Back in June a Baltimore Police sergeant was arrested and charged with second degree assault, false imprisonment and misconduct in office for wrongfully arresting a bystander. There hasn't been much movement on his criminal case that is currently set for jury trial in mid December, but the suspended sergeant is back in the news in an embarrassing twist for the city. According to data recently made public online, the sergeant was actually Baltimore City's highest paid employee in the 2018 fiscal year that ended June 30 with a gross salary of a whopping 260 thousand dollars. His take home salary was 10k more than the next highest paid city employee, who as it turns out was the former director of information technology who was forced to step down after a ransomware attack cost taxpayers $10 million to fix. The suspended police sergeant's gross salary was significantly more than the mayor's salary of about $185k and 10 percent higher that the elected State's Attorney's salary. The sergeant was also the second highest paid city employee in the 2017 fiscal year, making slightly less than $250k.
The incident that led to the sergeant's arrest and suspension occurred on May 30 when police officers were conducting a warrants check on a pedestrian. A bystander expressed his disapproval of police ordering the pedestrian to sit on the wet sidewalk. Rather than ignore the commentary or simply tell the bystander to keep walking, the sergeant charged after the bystander and tackled him from behind. The sergeant and another officer forcibly held the man down on the street with their knees in his back and placed him under arrest.
Each time a police officer uses force against an individual they must fill out certain forms to explain their actions. Apparently the sergeant justified his actions by stating that the bystander challenged him and became aggressive and combative, but body cameral footage reviewed by police officials painted an entirely different picture of the incident. Ultimately the police commissioner made the swift decision to charge the sergeant just one week after the incident. A warrant was issued for his arrest on June 6 for the three aforementioned misdemeanor counts and the sergeant turned himself in to the jail. He was released that same day on an unsecured personal bond of $200k, which means he did not have to put up any money or collateral in order to be released.
The Blog will continue to follow this case and many other incidents involving police misconduct around Maryland. It will be interesting to see if the sergeant enters into a guilty plea or decides to go to trial, but after viewing the video the former seems more likely. If he chooses trial it will undoubtedly be a bench trial, as no Baltimore City jury would be sympathetic after viewing the video. Second-degree assault is a misdemeanor with a 10 year maximum penalty, while false imprisonment and misconduct in office are both common law offenses with no statutory maximum penalty. Unfortunately the public has seen too many of these types of cases, and misconduct in office is no longer the rarity that it once was.
The Blog will also pay close attention to the evolving storyline surrounding city police officer overtime payments. Each year when the city payroll numbers are published it is always shocking to see just how much overtime the city shells out to its police force. Despite a slight decrease in overtime from 2017 to 2018, Baltimore still paid its officers a combined $40 million more than their base salaries. There are numerous police officers who take home more than double their salary after factoring in overtime, which further calls into question the overall workings of the controversial department.
Benjamin Herbst is a Maryland criminal defense lawyer who handles all types of charges including assault, false imprisonment, robbery, illegal handgun possession and drug possession and distribution. Call Benjamin anytime for a free consultation at 410-207-2598.
Resources
Baltimore's highest-paid city employee is police sergeant charged with assaulting bystander, baltimoresun.com.