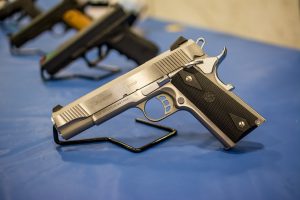 The federal government's commitment to prosecuting Baltimore City gun crimes was on display again this week, as two men were sentenced to almost ten years in prison for unlawful firearm possession. Both the ATF and the Baltimore Police Department participated in the investigations that ultimately led to the convictions, and sentences were announced by the U.S. Attorney's Office for the District of Maryland. In the first case a 35-year old received a sentence of 100 months in federal prison followed by 3 years of probation for illegal possession of a stolen firearm. According to the plea, law enforcement executed a search warrant of the defendant's residence and found a stolen semi-automatic handgun on the couch along with marijuana that the defendant planned to sell.   In the plea the defendant agreed that the firearm was possessed in furtherance of a drug trafficking crime, and admitted that the he knew the firearm was stolen. The defendant was prohibited from possessing a firearm due to multiple prior felony convictions
Just 3 days later, a second Baltimore man was sentenced by the same federal judge to 9 years in prison for possession with intent to distribute a controlled substance and possession of a firearm in the furtherance of a drug trafficking crime. The jail sentence will be followed by 5 years of probation, or supervised release as it is termed in the federal system. According to the plea agreement police officers observed the defendant participating in a drug transaction and attempted make contact with him, but the defendant fled the scene. After a brief pursuit the defendant was arrested, and a search incident to arrest revealed oxycodone bills and over $400 in cash. Police also recovered a black jacket nearby with a loaded handgun inside the pocket. Law enforcement was able to prove the jacket belonged to the defendant using evidence recovered from a search warrant. This defendant was already prohibited from possessing a handgun due to prior felony convictions for possession with intent to distribute narcotics.
Both defendants could have easily been prosecuted in the Circuit Court in Baltimore, but the feds continue to pound the message that they will not ignore illegal gun possession in the city. Both Maryland law and federal law provide mandatory minimum prison sentences for illegal gun possession, but gun charges carry lengthier prison sentences in the federal system, and defendants are never eligible for parole. The defendants received lengthy sentences in large part due to their status as prior convicted felons, but the fact that drugs were involved with both cases contributed as well. Under Maryland law a person is subject to a 5-year minimum prison sentence without parole for both illegal possession of a firearm and possession of a firearm in furtherance of a drug trafficking crime. Illegal possession of a firearm does not necessarily mean that a person must be a convicted felon. Misdemeanor convictions for second degree assault, and any other crime that carries a more than 2-year maximum penalty will disqualify a person from possessing a gun under state law. Additionally, a conviction for a domestically related offense and even a probation before judgment for domestic assault disqualifies a person. Possession of a firearm in the furtherance of a drug trafficking crime also carries a 5-year sentence without parole. The prosecution must establish that the gun and the drugs have some sort of relationship or nexus, but prior case law on this issue is not in favor of defendants.
If you or a loved one has been charged with a gun crime in Maryland state or federal court hiring an experienced and effective lawyer could be the difference between freedom and a lengthy prison sentence. Gun cases are treated more harshly in here than almost every other state in the region, and more defendants are receiving 5+ year sentences for non-violent crimes involving guns than ever before.  It is extremely important to become familiar with the Maryland gun laws, and to contact and skilled lawyer if you are facing charges.  Benjamin Herbst has handled hundreds of gun and drug cases in federal and state court, and is available anytime for a free consultation at 410-207-2598.
Resources
Baltimore Felon Sentenced to Nine Years in Federal Prison for Possession with Intent to Distribute Drugs and Possession of a Firearm in Furtherance of a Drug Trafficking Crime, justice.gov.