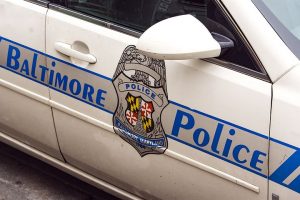 A Baltimore City Police officer was recently arrested and charged with drunk driving after he was found sleeping on the street outside of a convenience store.  According to the incident report the officer was found lying in a pool of his own vomit outside of his vehicle on Eastern Ave in Baltimore.  To make matters worse the defendant, who was off-duty at the time, told responding officers that his personal firearm was missing from the scene.  Police searched the vehicle and the area around the vehicle, but were unable to locate the missing handgun.  The officer now faces charges for driving while impaired and driving under the influence of alcohol, and has a trial date set in the North Avenue District Court in February.  It remains to be seen whether the officer will resolve his case at the District Court level, or request a jury trial that would transfer the case downtown to the Circuit Court for Baltimore City.  DUI carries a maximum penalty of 1 year in jail, which means the defendant has an absolute right to request a jury trial under Maryland law.  DWI carries a maximum penalty of 60 days incarceration, and thus is not an offense that affords a jury trial right.
Regardless of where the case is heard, the judge will not be pleased to find out that the officer had previously been charged with DUI back in 2018.  According to an incident report the officer, who was again off-duty, was pulled over after police responded to a call regarding individuals brandishing firearms at a club.  Police detected signs of impairment and the officer was administered a breathalyzer test at the station, which resulted in a reading of .10.  While this is clearly enough evidence to prosecute for DUI per se under Maryland law, the case ended up being dismissed by prosecutors in court.  The officer was also never identified as one of the individuals who allegedly brandished a gun, but two of his off-duty colleagues were identified and disciplined as a result of their involvement.  The officer, who currently lives in Howard County, avoided any major disciplinary consequences back in 2018, but he may not be so lucky in the present case.  If he enters a plea or is found guilty at trial the fact that he was so intoxicated that his handgun was lost or taken without his knowledge will certainly be a factor that the judge will consider at sentencing.  It is likely that a sentencing judge would consider this behavior even more reckless than a typical DUI, as it resulted in another illegal firearm being circulated on the streets of Baltimore.
The 28-year old city police officer has been placed on paid leave during the course of an internal investigation that will not be made public.  The results of the case will be public though, and it will be interesting to see how the state and the judge handle the case.  The public will certainly be watching, and so will the Blog.  We will post a follow-up article when the case is resolved, and comment on the outcome.  Benjamin Herbst is a Maryland criminal defense lawyer who specializes in DUI defense and other traffic charges such as leaving the scene of an accident, fleeing and eluding police, driving on a suspended license, reckless driving, driving without a license and federal traffic citations received on Maryland parkways or on federal property.  Benjamin also handles all criminal charges including wear, transport or carry of a handgun, and illegal possession of a firearm.  He is available 7-days a week for a free consultation and is licensed in Florida for those who have criminal or traffic cases in Miami-Dade, Broward or Palm Beach County.  Call Benjamin today at 410-207-2598 or 954-543-0305 to discuss your case and which defenses may be available to you.
Resources
Records: Baltimore Police officer charged with DUI after being found lying 'in vomit'. His off-duty gun  went missing. baltimoresun.com.