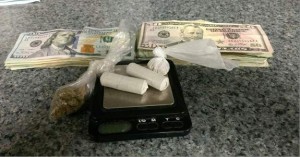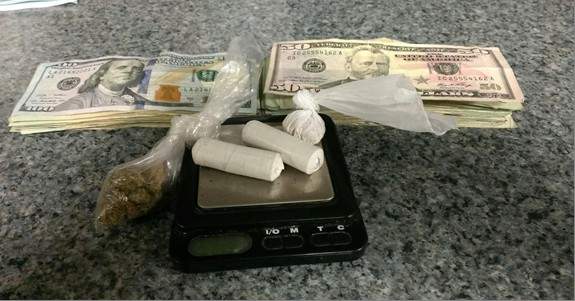 Howard County is known for having one of the best school systems in the state and a relatively low crime rate, so it undoubtedly was surprising when federal agents showed up in force to execute a search warrant of a home in a quiet Ellicott City neighborhood.   The agents were targeting a 31-year old suspect and looking for evidence of drug distribution, and they allegedly found a what they were looking for when the performed the search back in 2016.  According to evidence presented at trial, law enforcement entered the residence as the defendant was in the kitchen with numerous bags of crack cocaine, powder cocaine, digital scales, measuring cups used in the production of crack and two loaded .45 caliber handguns.  During the course of the search, law enforcement officers then found over 70 grams each of cocaine and crack, and close to $10,000 in cash.  Agents also seized two semi-automatic rifles with large capacity magazines and 200 rounds of ammunition.  The defendant was charged with possession with intent to distribute cocaine and possession of a firearm in furtherance of a drug trafficking crime among other felony charges.  Rather than enter a plea of guilty, the defendant elected to roll the dice and go to trial, but it appears from the verdict that he may not have made the best decision.
After a four-day jury trial at the Baltimore City federal courthouse that was postponed due to the COVID-19 pandemic, the defendant was ultimately found guilty for possession with intent to distribute more than 28 grams of cocaine, possession of a firearm in furtherance of a drug trafficking crime and possession of a firearm by a convicted felon.  The first two convictions carry 5-year mandatory prison sentences that will be imposed consecutively.  Maryland state law and federal law both provide mandatory five-year sentences for possession of large amounts of cocaine, and both also have mandatory sentences for possession of a firearm in a drug trafficking crime.  The defendant will likely be sentenced to more than 10 years in prison and since there is no parole in federal criminal cases he may not be released until at least 2026.  Even if the case was charged in state court the defendant would not have been parole eligible based on the mandatory minimum sentences that must be imposed by the judge. According to a release from the U.S. Attorney's Office, the Howard County and Prince George's County Police Departments helped the FBI work up this case as part of the Project Safe Neighborhoods, which was developed to encourage collaboration between federal and state law enforcement agencies.
Under Maryland law there is no specific offense entitled drug trafficking like there is in Florida, but the term is used whenever a defendant is charged with possession or distribution of a large amount of cocaine, heroin, marijuana or other drug.  Violations of these offenses trigger mandatory prison sentences, but the federal laws can be stricter than Maryland laws when it comes to amounts.  Federal law provides a minimum mandatory penalty for possession of a much lower amount of cocaine base (28 grams) compared to Maryland law (448 grams).  In contrast, Maryland law has a lower threshold for heroin (28 grams) than federal law (100 grams).  Maryland state law and federal law both provide the same mandatory penalty for firearm possession during a drug crime, but many times this offense is wrongly charged by state law enforcement.  The law requires the State to prove a nexus between the drugs and the guns, so if a gun is locked away in a person's basement it may not be in any way related to the drugs.  A criminal defense lawyer will be able to look at the case in detail to determine what defenses may be available in a drug trafficking case.
The Blog will continue to follow federal criminal cases at the Baltimore and Greenbelt courthouses and may post a follow-up article on this case after the sentencing hearing in January.  For any legal questions or for a free consultation about retaining a Maryland or Florida criminal defense lawyer contact Benjamin Herbst at 410-207-2598.  Benjamin specializes in defending clients charged with various drug felonies including possession with intent to distribute marijuana, cocaine, heroin and meth, and possession of a firearm in furtherance of a drug trafficking crime and Florida drug trafficking cases.  He is also an experienced gun lawyer who fights charges including possession of a firearm by a convicted felon or disqualified person and wear, transport or carry a firearm.  Benjamin practices in all jurisdictions including Ellicott City, Harford County and Frederick County.
Resources
Ellicott City Drug Trafficker Convicted After Trial In Federal Court Of Possessing Narcotics And Firearms To Further His Drug Business, Including Two Semi-Automatic Riles With Large-Capacity Magazines, justice.gov.