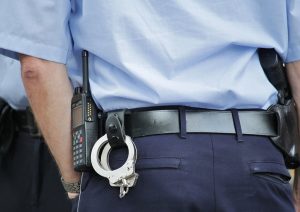 Last week we posted on the Special Enforcement Zone that was established in anticipation of the H2Oi pop-up car rally, and after a wild weekend that made national news headlines the Ocean City Police have reported over 100 arrests.  According to a press release on Sunday, the last day of the rally, there were only minor issues reporting during the days but nighttime was an entirely different story.  Late Saturday night the Ocean City Police requested backup from numerous law enforcement agencies throughout Maryland's Easter Shore after numerous individuals allegedly became unruly and destructive.  The Maryland State Police as well as the MTA Police, Natural Resources Police and even the state's Incident Management Team responded to Ocean City to assist.  In addition to over 100 arrests, police also towed more than 350 vehicles and wrote over 1,000 traffic and criminal citations.  The Governor lauded the swift actions of law enforcement while condemning the alleged wanton disrespect for law enforcement displayed by many of the visitors.
In addition to the hundred plus arrests, there were also several injuries to civilians and police officers.  On Saturday night a Maryland State Police trooper was knocked unconscious while attempting to arrest a fleeing suspect.  According to a MSP press release the trooper fell to the ground upon "reaching the suspect", which likely meant the trooper tackled the suspect after running at a high rate of speed.  The trooper sustained a laceration to his head and was treated at PRMC in Salisbury before being released the next morning.  The suspect was eventually taken into custody and charged with disorderly conduct, resisting arrest, escape second degree and reckless endangerment.  Despite all charges being misdemeanors and no weapon being involved, the defendant was initially held without bail.  According to Vinelink he has been released on pre-trial supervision, and now must return to Maryland from Virginia for his trial date in January at the Snow Hill district court.
Most defendants who are arrested in Ocean City for misdemeanors or traffic offenses will be scheduled for trial at the Ocean City district court on 65th Street and Coastal Highway, but the influx of arrests means that the Snow Hill district court will have to shoulder some of the case load for a few months.  Defendants who are facing offenses that carry more than 90 days in jail have the option to request a jury trial at the circuit court, but this is not always a wise decision in Worcester County.  The defendant in this particular case faces a 60-day maximum sentence for the disorderly conduct charge, but 3 years in prison for the escape and resisting arrest charges.  Second degree escape is a common charge in Maryland due to its broad definition; a defendant who is on home detention can be charged with second-degree escape for violating the terms of the monitoring agreement, as can a person who fails to show up to a jail facility to serve a sentence.  In this particular case the defendant was charged with escape for departing from custody without the authorization of the arresting officer, which is similar to resisting or interfering with arrest.  The state will likely have to drop at least one of these charges at or before trial.  Reckless endangerment, which is defined under Maryland law as engaging in conduct that creates a substantial risk of death or serious physical injury to another or discharging a firearm from a vehicle, is punishable by up to 5 years in prison.  At this point there does not seem to be adequate evidence for the state to prove reckless endangerment, and it is unnerving that he was charged in the first place for this serious misdemeanor.  Running from the police after being placed under arrest may be illegal but it is a major stretch to say that running creates a substantial risk of serious bodily injury for the officer who is giving chase.  If the chase took place in a vehicle it would be a different story, but fleeing on foot should never be charged as reckless endangerment.
The Blog will continue to follow the fallout from this past weekend's car rally in Ocean City, and may post a follow up article in the future about the particular arrest we discussed.  Benjamin Herbst is a Maryland and Florida criminal defense lawyer who handles all types of charges including disorderly conduct, escape, resisting arrest and reckless endangerment.  Additionally, Benjamin specializes in assault and weapons and gun crimes on the Eastern Shore and in the Baltimore and D.C. Metro areas.  He is available 7 days a week for a free consultation at 410-207-2598 or in Florida at 954-543-0305.
Resources
'Wanton Disrespect' For Law Shown At Ocean City Car Rally: Hogan, patch.com.