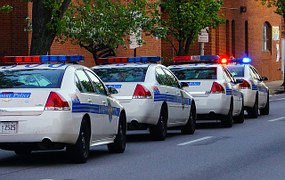 Drunk driving charges have been filed against a Baltimore Police sergeant after he allegedly crashed an unmarked department vehicle into multiple parked cars.  The incident occurred last weekend in the northeast part of the city not far from the site of the old Memorial Stadium.  The sergeant is a 15-year veteran of the force, who is assigned to a new plainclothes unit sporting the nondescript title Anti-Crime Section.  This undercover unit has been around since April, and is the first of its type since plainclothes units were disbanded following federal indictments of numerous members of the Gun Trace Taskforce.  The charged officer is one of two sergeants on the plainclothes unit, which also includes 12 officers.  Pursuant to department policy the sergeant has been suspended with pay while an internal investigation takes place.
The sergeant was not arrested and booked into jail, but rather was issued must appear citations.  He will receive a summons to appear for trial, likely at the North Avenue District Court in Baltimore City sometime in the next few weeks.  Most people who are arrested for DUI or DWI in Maryland are not actually booked into a jail, but rather are released to a friend or family member at the police station. This process typically takes a few hours, as the officer has to complete all the paperwork and inform the defendant of his or her rights with respect to the breathalyzer test.  There are certain scenarios where a driver arrested for drunk driving could be booked into jail, but a polite and cooperative attitude will usually be enough to avoid this unfortunate outcome.
Like most first time offenders, the police officer will probably have an opportunity to receive probation before judgment or PBJ from the judge in district court.  This of course depends on whether the officer's attorney feels the state has enough evidence to prove the charges, and it is not clear whether the sergeant submitted to a breath test.  The officer may elect to fight his case at trial, though this route should take the case downtown to the circuit court.  It is extremely difficult to win a DUI trial in district court because you are relying on the judge alone to find the state has not met its burden of proof.  Police officers typically have the most experience testifying in traffic cases, and in a district court trial they only need to convince one person (the judge) that the citations should stand.  Contrast this with a jury trial where 12 citizens are scrutinizing each and every word coming from the state's witnesses.  Most jurors understand that even two sips of alcohol can be detected on a person's breath, and that the roadside exercises are a ridiculous endeavor. Standing on one leg and walking heel to toe in a straight line are hardly an adequate means to test a person's normal faculties.  If you are charged with DUI or DWI (typically a person will be issued citations for both and an additional one for DUI per se if the breath results were above .08) do not hesitate to request a jury trial and transfer your case to circuit court. Making this request does not automatically mean your case will go to a jury trial, rather it simply means that this option will be available.
The Blog will follow the progress of this case in Baltimore City and others involving police officers.  If you have been charged with DUI or DWI anywhere in Maryland (including federal court) contact Benjamin Herbst for a free consultation at 410-207-2598. Benjamin has handled hundreds of DUI cases including numerous jury trial acquittals, and he is available seven days a week to discuss your case.  He specializes in handling cases for repeat offenders, out of state defendants and minors.
Resources
Baltimore Police sergeant charged with DUI after crashing department-issued car, police say, baltimoresun.com.