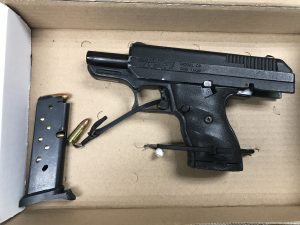 This past week a 30-year-old Cecil County man was sentenced to more than four years in federal prison for narcotics conspiracy and possession of a firearm by a convicted felon.  The case was originally prosecuted in the district and dircuit courts for Cecil County located in Elkton, but the feds decided to prosecute as part of their Project Safe Neighborhoods (PSN) initiative, which was developed by the Justice Department in an effort to curb violent crime.  While we have posted numerous articles about federal gun and drug prosecutions in the Baltimore and D.C. Metro areas, this case is another reminder that the feds will pick up felony firearm cases in all Maryland jurisdictions.
According to facts presented in the plea agreement, the defendant's vehicle was pulled over for speeding and failing to stop at a stop sign.  Upon initiating a traffic stop the Cecil County Sheriff's deputy observed the car shake and determined that the driver and passenger had switched seats.  This obviously peaked the deputy's suspicions, though it turned out there was much more in store for the deputy to deal with.  Upon asking the two men for their identification, the defendant grabbed the gear shift and told the driver to go.  The deputy was able to turn the vehicle off before it could move, but then the defendant took off on foot in an attempt to flee the scene.  While attempting to escape the defendant was observed throwing an object that appeared to be a firearm.  The defendant was eventually apprehended by police and found to be in possession of $1,802 in cash.  Police also recovered a loaded firearm in the area where the defendant fled and a small quantity of marijuana in the vehicle.  Finally, deputies recovered a small amount of crack cocaine in the back of the patrol car after the defendant was removed for a medical check.  The traffic stop, including the defendant fleeing with what appeared to be a firearm in his hand, was all captured on the patrol car's dashboard camera.
The defendant was originally charged with 12 state criminal counts including illegal possession of a firearm, loaded handgun in vehicle, handgun on person, obstructing and hindering, disturbing the peace, resisting arrest and CDS possession-not marijuana.  He was held without bond while the state case was pending most likely due to the firearm charge and the fact that he attempted to flee from police.  Judges often make the conclusion that a defendant is a flight risk and will be unlikely to appear as directed for court if he or she is accused of attempting to flee from police during the original crime.  Logically the two are quite different, but this argument often falls short in moving the needle toward release.  The case was transferred to circuit court but then dismissed after the feds picked it up a couple months later.  Considering the defendant faced a 5-year mandatory prison sentence without parole on the state level, he likely did not receive a much harsher sentence in federal court.  A defendant who is sentenced on a 5-year mandatory offense in Maryland state court for a crime such as felon/disqualified person in possession of a firearm may still be eligible to obtain credits for good behavior etc.  The defendant's 52-month prison sentence is pretty close to what he would have served had he been convicted in state court.
The Blog will continue to follow federal firearm and drug cases that are picked up by the feds from state court.  We have not seen many federal illegal firearm possession cases from counties as far from Baltimore City as Cecil County, but we may begin to see more in the coming months and years.  Benjamin Herbst is a criminal defense lawyer who specializes in concealed firearm possession and drug offenses in Maryland and Florida.  He has extensive experience representing out of state defendants in gun possession cases, who are charged due to the harsh Maryland firearm laws.  Benjamin has represented defendants from North Carolina, Virginia, West Virginia, Georgia and a host of other states with more relaxed firearm carry laws.  He also has extensive experience defending those charged with resisting arrest and obstructing and hindering, and is licensed to practice in the Maryland federal courts in Baltimore and Greenbelt, as well as the federal criminal courts in Fort Meade, Joint Base Andrews and Aberdeen Proving Ground.  Contact Benjamin anytime at 410-207-2598 for questions about a Maryland case and at 954-543-0305 for a consultation about a Florida case.
Resources:
Cecil County Felon Sentenced to More Than Four Years in Federal Prison for Illegal Possession of Firearm and Narcotics Conspiracy, justice.gov.