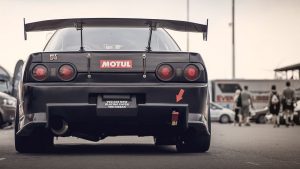 The 2021 H2O1 pop-up car rally is officially underway, and law enforcement is preparing to keep this unofficial event as safe as possible.  Despite a supposed move to New Jersey a few years back, the event still calls Ocean City home, and thousands will flock to Maryland's Eastern Shore this week.  The event has a decade of history in Worcester County, and despite lawmakers and the city police department's best efforts, it does not appear to being going away any time soon.  Lawmakers can't simply ban the event because it is not an officially sanctioned event in the first place.  There are no licenses issued by the town, and there is no promoter or company that actually runs the event.  Short of closing down the town for the week or imposing some sort of over-intrusive curfew (which would never happen and would be unconstitutional) the town will once again be forced to make the event as safe as possible for participants and spectators alike.
In 2020 the number of arrests during the rally actually decreased from 121 the year before to an even 100.  On the other hand, the amount of traffic citations issued during the event rose to nearly 3.5 thousand.  Additionally, 350 cars were towed for various infractions including camber violations that make the cars illegal for street use.  Many visitors to Ocean City have noticed signage on Coastal Highway that displays the Special Event Zone message, and this law was actually created back in 2018 in response to the Ocean City Pop-up rally.  The town wanted to give police more authority to enforce the traffic laws, and believed that simply writing citations would not do the trick.  Lawmakers succumbed to the pressure and created the Special Event Zone to give police authority to arrest drivers for so called "exhibition driving".
According section 21-1132 of the Transportation Article under Maryland law, exhibition driving is defined as operating a vehicle in a manner that results in excessive or abrupt acceleration or deceleration, skidding, burning or smoking of the tires, swerving or swaying, or revving the engine in an unreasonably loud or disturbing manner.  Grinding of the gears and causing the wheels to lose contact with the ground is also included in the statute.  Exhibition driving while in Special Event Zone is now punishable by up to 60 days in jail, and a fine of $1,000, and police officers will arrest a defendant for this type of driving.  We have seen numerous cases where defendants are arrested for exhibition driving even if their actions did not place anyone in danger.  To make matters worse, some out of state defendants are not released by the commissioner, and could held overnight in jail until seeing a judge the next day.  Not only will police arrest an individual for exhibition driving, the State's Attorney's Office will almost certainly prosecute these cases.  In addition to exhibition driving being an arrestable offense, the fine for speeding in a special offense zone increases to $1,000.  With the speed limit on coastal highway decreasing to 30 mph during the events, police are almost running out of paper to issue the tickets.
The Blog will continue to follow this years' Pop-up rally and may post an article after all the dust (and rubber) settles.  Benjamin Herbst is a Maryland criminal defense lawyer and personal injury car accident lawyer with extensive experience in Worcester County, Wicomico County and all other Eastern Shore jurisdictions.  Benjamin specializes in traffic offenses as well as gun, drug and violent crimes and is available 7 days a week at 410-207-2598 to offer a free consultation.  He is also and experienced juvenile criminal defense lawyer who practices in all state courts in Maryland. Benjamin is licensed in Florida as well, and can be reached there at 954-543-0305.
Resources:
Ocean City prepping for the return of a pop-up car rally that has turned violent in years, wmar2news.com.