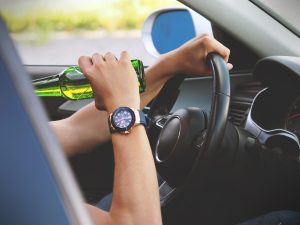 A Maryland man with an active felony warrant was recently arrested in Delaware after he parked next to a police officer with an open container of alcohol in his car. Just after 1 p.m. on an otherwise normal Friday afternoon a Rehoboth Beach police officer was writing a parking ticket when he observed the 29-year old man from Laurel pull up next to him. The officer would have paid little attention to the man, but for the two containers of alcohol that were immediately visible inside the car. After spotting the booze the Delaware cop had no choice but to investigate further, and when he did, he noticed the odor of an alcoholic beverage and other signs of impairment. While roadside sobriety exercises proved too difficult to administer due to a language barrier, the officer did feel he had enough evidence to arrest the man. A blood alcohol test confirmed the officer's suspicions and the man was booked for drunk driving.
Upon confirming the man's identity, Rehoboth PD then realized their drunken defendant had an outstanding felony warrant out of Wicomico County. The warrant was issued by the District Court in Salisbury back in January of 2016 and included one charge of felony third degree burglary. Other charges on the warrant included multiple counts of assault, malicious destruction of property and misdemeanor burglary in the fourth degree. The Laurel man also had a warrant for failing to appear in court for a jailable traffic citation resulting from driving without a valid license. Before he can answer for the charges in Maryland the defendant must first be transferred to the Wicomico County detention center. As of now he's being held in the Sussex Correctional Institution in Delaware pending extradition.
This case is hardly the crime story of the year, but it is of interest to the Blog as we head into the summer months where thousands will flock to the beaches of Maryland and Delaware. In this particular case the defendant made it easy on the cop, but police officers will be focused on open container violations as the tourist season ramps up. This is especially true in Ocean City, where possession of an open container of alcohol actually carries the possibility of jail time. The Ocean City police force increases in size by dozens of officers during the summer months, and these new cops are often hungry to make their mark. Open container, minor in possession of alcohol, fake ID and disorderly conduct cases are some of the most common crimes during in June, July and August. Visiting the coast during the summer months can be a great time, but unfortunately hundreds of summer beachgoers are forced to come back to a Worcester County courtroom in the Fall to answer for a criminal citation or summons. Walking down coastal highway with a beer or refreshing cocktail may seem harmless but it's illegal and not something that is overlooked by police officers. The OC PD will write hundreds of alcohol and marijuana citations this summer so be aware and make sure it isn't your name on one of them.
Benjamin Herbst is an Ocean City criminal defense lawyer that handles cases in Worcester County, Wicomico County and all other jurisdictions in Maryland. Contact Benjamin anytime for a free consultation at 410-207-2598.
Resources
Maryland fugitive arrested after police spot open container, baltimoresun.com.