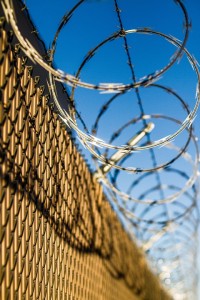 Two former Maryland correctional officers recently pled guilty to racketeering conspiracy for their roles in smuggling contraband into the Chesapeake Detention Facility (CDF).   The pleas were entered in the Baltimore City federal courthouse where the pair will be sentenced in a few months.  CDF is the federal pre-trial detention facility where most federal defendants in Maryland who are awaiting trial.  It is a maximum-security facility across the street from Baltimore City Central Booking that houses approximately 500 inmates.  Although it is a federal facility that is controlled by the United States Marshals Service, the jail is run by the Maryland Department of Public Safety and Community Supervision pursuant to a business contract.  The Maryland DPSCS runs all the state correctional facilities and is one of the largest agencies in the state.  The department currently boasts a workforce of approximately 12,000 and a budget of more than $1 billion per year.  Correctional officers at CDF are not federal employees but the jail is considered federal property.  Therefore, offenses committed on the grounds or within the jail are typically prosecuted in federal court.
The first plea took place last week and involved a 35-year-old female officer from Randallstown in Baltimore County.  According to the plea agreement she admitted that beginning in 2017 she smuggled contraband into CDF for multiple detainees, and met with outside facilitators to receive bribe payments and cellphones used to communicate with a specific inmate.  DPSCS investigators eventually caught on to the scheme and had federal agents execute a search warrant of the officer's home in 2020 where they seized cash, marijuana, cell phones and notes from several CDF detainees.  The second plea took place this week for a 45-year-old officer from Baltimore.  This officer admitted to smuggling liquor into the facility for a detainee and receiving four payments totaling approximately two thousand dollars.  Pursuant to his plea, he also admitted to meeting an outside facilitator to pick up a bag containing suboxone strips and tobacco intended to be smuggled inside CDF the next day.  Unbeknownst to the officer, investigators had already caught on to his involvement with the smuggling operation and the contraband was interdicted by officers in the facility's parking lot.  The defendant later admitted that the contents of the black bag were intended to be smuggled inside the facility.
Both of the defendants face a maximum of 20 years in federal prison for racketeering conspiracy, though they will serve far less than the maximum.  Both are likely first-time offenders, and based on the limited facts available from the U.S. Attorney's Office press release their guideline ranges are estimated to be 24 to 30 months.  This is based on an offense score of 19 with a two-level reduction for entering into a plea agreement.  Unless the defendants have agreed to a binding "C" plea, the attorneys will likely argue for downward departures in an attempt to keep active incarceration under two years or possibly even home confinement.  The government takes public corruption cases extremely seriously, and offenses involving correctional employees are no exception.  While nobody was injured during the course of this scheme, the government will almost certainly make the argument that providing cell phones and other contraband to inmates endangered the lives of correctional officers and other inmates.  The defense lawyers must be prepared to address these arguments and to humanize their clients in the eyes of the Court.
The Blog will follow these cases and may post a follow-up article after the defendants are sentenced in December and January.  We will continue to follow all cases involving public corruption and breach of trust and are available anytime for a consultation at 410-207-2598.  Benjamin Herbst is an experienced Maryland state and federal criminal defense lawyer who specializes in bribery, misconduct in office, racketeering and conspiracy.  He has successfully defended numerous public employees and is standing by to discuss your case 7 days a week.  Benjamin represents defendants charged with federal offenses in Greenbelt and Baltimore City, and has defended clients in all state jurisdictions in Maryland from the Eastern Shore to Cumberland.  His main office is located in Downtown Baltimore City, but he is willing to travel to any convenient location to discuss a criminal or automobile accident case.
Resources:
Two Correctional Officers Plead Guilty to a Racketeering Conspiracy, Admit to Smuggling Contraband Into Maryland's Federal Pretrial Detention Facility in Exchange for Bribes, justice.gov.