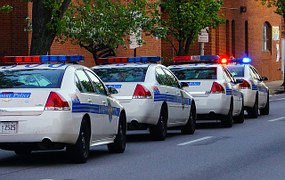 The U.S. Attorney recently announced that seven Baltimore City police officers have been indicted on numerous felony charges, and the fallout has already extended beyond the cops' alleged criminal acts. A federal grand jury returned the indictment back in February, but it was sealed until agents had the opportunity to execute search and arrest warrants. All seven have been arrested and remain in custody after a judge denied bail pending trial. While bail is typically granted for a defendant with no prior criminal record that is not facing a capital offense or violent life felony, prosecutors made the argument that these defendants, who served on the gun trace task force together, were especially dangerous to the public and possessed unique training that would make them flight risks. Defense lawyers for the accused countered by arguing that the charges were blown out of proportion, but the federal magistrate judge was not convinced and stated that no conditions of bail or supervised release would be enough to protect the public.
The charges returned by the grand jury were numerous, and included offenses such as wire fraud, robbery, conspiracy and extortion by a state or government employee. These charges were bundled in one racketeering indictment, which alleged the defendants stole money and drugs from civilians they detained or arrested and submitted fraudulent overtime reports. One of the defendants also allegedly posed as federal prosecutor in order to get more information out of a victim, which the officers subsequently burglarized and stole $20,000 from. Six of the defendants were also charged in a separate seven-count indictment for drug charges including conspiracy to distribute heroin and cocaine, and officer is charged with distribution of heroin resulting in death.
All seven of the accused officers face up to 20 years in prison for the racketeering and conspiracy charges. The six defendants in the drug indictment face even more exposure as antiquated federal drug laws still provide harsher punishments for those that sell drugs than for those that rob, steal from or assault others. Three defendants face conspiracy to distribute more than a kilogram of heroin, which carries a maximum penalty of life in prison with a 10-year mandatory minimum sentence. The other three are charged with selling slightly less heroin, but still face up to 40 years with a 5-year mandatory minimum. One of the soon to be ex cops faces an additional 20 years in jail for distributing heroin that results in death.
There has already been widespread fallout as a result of the federal indictment. The mayor has ordered an audit of Baltimore Police overtime payments, which despite at $16 million budget are on pace to exceed $40 million this year. The Baltimore City State's Attorney's Office has already been forced to dismiss cases that the indicted cops participated in, and there will be dozens more to follow. The SAO and the BPD may also be forced to do some house cleaning as they were both kept in the dark about this investigation due to alleged possible leaks. With the exception of the police commissioner, the entire investigation was kept from both city organizations as the FBI, DEA and the U.S. Attorney's Office worked in secret.
The Blog will continue to follow these cases and the fallout that ensues. We may post again in the near future on this topic as new information becomes public. Benjamin Herbst is a Maryland state and federal criminal defense lawyer that handles conspiracy, robbery, theft and drug distribution cases. Contact Benjamin anytime for a free consultation about your case at 410-207-2598.
Resources
Seven Baltimore City Police Officers Arrested for Abusing Power in Federal Racketeering Conspiracy, justice.gov.