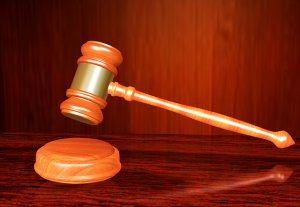 The last of 16 former Maryland correctional officers involved in a large-scale prison corruption scheme was sentenced recently in the Baltimore federal courthouse. The 28-year old female officer originally from Texas was sentenced to six years in prison followed by three years of probation for her role in a contraband smuggling scandal at the state's largest prison facility. Eastern Correctional Institute or ECI is a medium security facility in Somerset County on the Eastern Shore that houses over 3,000 male inmates. For years inmates and numerous staff members conspired to smuggle contraband such as drugs, cell phones and tobacco into the facility using complex organized methods designed to thwart detection. The scam eventually became too large to keep secret, and was shut down in 2016 after 80 different defendants were charged. Federal prosecutors ended up securing convictions in 77 out of the 80 cases.
While most defendants entered into plea agreements with the government, this defendant elected to take her case to jury trial, and was ultimately found guilty of racketeering, money laundering and drug conspiracy after nine days in court. Evidence presented by the government revealed that the former corrections officer conspired with her sister and other associates to smuggle packages of contraband into ECI for distribution to inmates. The contraband referenced in this particular case included drugs such as Suboxone and synthetic marijuana, phones, tobacco and pornography. Contraband was packaged in various ways including hidden within feminine hygiene products. The packages were placed in strategic locations such as staff bathrooms, interior offices and dining areas to avoid suspicious hand-to-hand transactions. Using this "dead drop" method, the smuggler and the purchaser never actually had to meet in person.
According to the government smugglers were paid roughly $500 each time they successfully delivered a package to an inmate and this defendant was no different. She was apparently paid via PayPal by inmates using the very same cell phones that were once smuggled into the prison. The contraband cell phones also provided a constant means of communication with inmates to arrange future transactions. While the phones allowed the smuggling operation to flourish they also came back to bite the co-conspirators. Federal law enforcement intercepted inclulpatory text messages between this defendant, her accomplices and the inmate customers, which referenced the type of contraband, the method of packaging, the location of the drops and of course the price. Numerous law enforcement agencies were involved in this massive investigation including the FBI, U.S. Postal Inspection Service, Maryland State Police and the Baltimore Police.
The Blog will continue to follow cases involving public corruption throughout Maryland and will post articles as they proceed through the court system. Under state law this defendant would likely have been prosecuted under the criminal code sections involving contraband, but the sheer scale of the scheme (and the fact that public employees were involved) made this case ripe for federal prosecution. Delivering contraband or possessing with intent to deliver contraband to an inmate in a place of confinement (jail, prison or secure juvenile facility) is a misdemeanor punishable by up to 3 years incarceration. If the contraband is intended for the purpose of aiding an escape then the crime becomes a felony with a 10-year maximum penalty. The same enhanced penalty applies if the contraband is a weapon.
Benjamin Herbst has successfully represented numerous defendants charged with contraband violations under state law, and he is available anytime to offer a free consultation about your case. Prosecutors and judges take contraband cases seriously, which makes hiring an attorney all the more important. Benjamin also represents defendants charged with racketeering, conspiracy, distribution of narcotics and all other state and federal criminal violations.
Resources 
Correctional Officers Convicted of Federal Racketeering Conspiracy at Maryland's Eastern Correctional Institution is Sentenced to Six Years in Federal Prison, justice.gov.