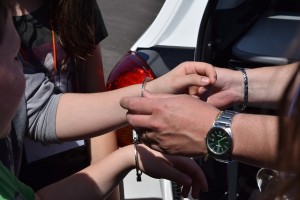 Anne Arundel County Police have charged two men with multiple criminal and traffic offenses in connection with a hit and run that left a state trooper seriously injured.  According to reports, police attempted to conduct a traffic stop of a Ford F-150 in Pasadena at around 12:30 in the afternoon for driving without a front license plate.  The driver of the pickup failed to stop, and instead allegedly attempted to flee the scene.  During the act of fleeing from police, the driver crashed into an unmarked State Police Vehicle and injured the trooper inside.  The injuries were serious enough to require the trooper to be transported to the hospital via ambulance.  Police eventually located the driver and a man alleged to be the passenger at the driver's home in Glen Burnie.  The passenger was arrested for drug possession and making a false statement to a law enforcement officer, and the driver was issued more than a dozen traffic citations including fleeing or eluding police, driving without a license, driving on a revoked license and reckless driving.  Both men have yet to receive their trial dates for their charges, and both may have more serious issues on the horizon than traffic citations and misdemeanor drug and false statement charges.
At the time of the hit and run, the driver of the truck already had a court case scheduled at the Glen Burnie courthouse for driving on a suspended license, which probably explains why he was attempting to avoid being pulled over int first place.  The prior case is scheduled in early November, and you can bet the State will bring up the recent charges if the case is not postponed again.  In addition, the driver may also face additional, more serious charges for leaving the scene of an accident resulting in serious bodily injury.  Leaving the scene of an accident or hit and run is already a serious traffic offense that carries up to 60 days in jail if there was property damage and up to 1 year in jail if someone was injured.  The severity of this offense increases dramatically if the victim suffered serious bodily injury and the driver knew or reasonably should have known the accident might result in serious bodily injury.  Leaving the scene of an accident with serious bodily injury is a felony with a five-year maximum penalty.  Despite the fact that the driver was already issued multiple citations related to the accident and the fleeing, the State could always add additional charges by filing a criminal information or the police may choose to file a statement of charges.  Since this offense requires the State to prove the victim actually suffered serious bodily injury, this type of charge would not typically be initiated until later when medical records can be obtained.  In situations where there is a fatality a driver could be charged with a 10-year felony for failing to remain at the scene.
The passenger was actually arrested at the driver's house and is being held without bond at the Anne Arundel County Detention Center on three separate cases.  He is a Tier 3 sex offender with a lifetime registry requirement, and was charged with failing to register.  The failure to register allegation likely triggered a violation of his Anne Arundel County Circuit Court probation for two counts of second degree assault.  He then failed to appear at the district court for the failure to register case and had two bench warrants, one a violation of probation bench warrant and the other a failure to appear bench warrant.  What likely happened is that police attempted to identify the passenger upon locating the two suspects in the hit and run, and the passenger gave a fake name to avoid being arrested.  When police eventually found out his identity, they arrested him and found CDS on his person.  Thus, the two new charges to go along with the two outstanding bench warrants.  The passenger was ultimately held without bail on the new charge due to his prior FTA and his outstanding VOP.
The Blog will continue to follow this incident, and may post a follow up article if the driver ends up being charged with a more serious offense.  The passenger is potentially facing time on three separate cases, and it might be in his best interest for his attorney to try to reach a global resolution.  Benjamin Herbst is a Maryland criminal defense lawyer who handles leaving the scene of an accident, driving without a license, fleeing or eluding and false statement to a law enforcement officer in state and federal court.  He also specializes in violation of probation cases and bail reviews in all Maryland counties.  Benjamin has locations in Baltimore City and Anne Arundel County, and has successfully defended adult and juvenile clients in every single county in Maryland, along with the federal courts in Greenbelt and Baltimore.  Contact Benjamin anytime at 410-207-2598 for a free consultation anytime.
Resources:
Maryland state trooper hospitalized after 2 men fleeing traffic stop crash into his vehicle, wtop.com.