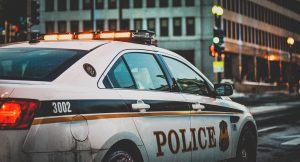 The proximity of Maryland to our nation's capital results in an increased federal law enforcement presence.  Most people are aware that the numerous military bases such as Fort Meade, Andrews and Aberdeen Proving Ground are patrolled by federally sanctioned police forces.  What most people don't realize though, is that several major highways in Maryland are actually located on national park land that is maintained and policed by the federal government.  The largest and most travelled of these highways is the Baltimore Washington Parkway, also known as 295.  The BW Parkway links the cities of Baltimore and Washington D.C., but is also a common thoroughfare for those traveling to and from Prince George's County, Howard County and Anne Arundel County.  In addition, 295 is the major access point of a variety of federal facilities such as Goddard and the NSA.  Needless to say, it's a busy highway at all hours of the day, which translates to a large number of accidents, traffic stops and arrests.
When an accident or traffic stop occurs on a Maryland parkway such as 295 or the Clara Barton, the U.S. Park Police will likely be the law enforcement agency that arrives on scene.  Any driver who is cited for an infraction such as speeding will be issued a citation and given the option to pre-pay a fine.  Drivers charged with more serious offenses such as DUI, driving without a license, leaving the scene of an accident, and open container will be issued a citation with a mandatory appearance noted on the bottom left of the ticket.  Failure to maintain control of a motor vehicle may also result in a mandatory court appearance, which is not the case for state citations related to causing an accident.  Drivers cited for must appear offenses will eventually receive a court date from the Central Violations Bureau or CVB.  The CVB could take months to process the case, and during COVID we even saw cases set more than 2 years after the alleged violation (federal cases have a 5-year statute of limitations).
Lately it appears the cases are set within a few months, so anyone charged should expect a court notice in the mail within 90 days of being issued the citation.  Federal traffic citations are first set for an initial appearance where the judge will advise the defendant of the charges and potential consequences.  A lawyer may be able to waive the initial appearance in the Baltimore federal court, but the defendant will likely have to appear for initial appearance if the case is at the Greenbelt federal court.  The maximum punishment for a federal traffic violation is typically 6 months in jail and fines that could be several thousand dollars, but an officer has the ability to charge a defendant with a violation of a Maryland state law.  In the case of DUI or leaving the scene of an accident the maximum penalty would then be up to one year under the Maryland Transportation Article.  If the citation says MTA next to the statute number, then the driver has been charged under Maryland law and could potentially receive a stay of judgment, which is similar to probation before judgment (PBJ).  Citations that contain a statue under 36 CFR are federal, and a stay of judgment is not a possibility.  Unlike state cases, a person who is convicted of a federal traffic citation will not typically receive points on his or her driver's license.
The U.S. Park Police issues a large number of traffic and criminal citations in Maryland, but there are a host of other police forces that charge civilians in federal court.  The bases that we mentioned have their own police forces, and other federal properties such as the NIH in Bethesda and CMS in Baltimore County are also policed by federally sanctioned officers.  This means the traffic violations that occur on bases in Maryland are prosecuted by the United States Attorney's Office, and defendants will have to appear in federal court.  Due to its size, a large number of these cases originate in Fort Meade.  Fort Meade cases are set for court in the Greenbelt federal courthouse one or two times per month in front of a Federal Magistrate Judge.  NIH and NSA cases are also prosecuted in Greenbelt, while CMS cases and some VA cases are prosecuted in Baltimore City.  If you have been issued a citation contact Maryland federal citation lawyer Benjamin Herbst anytime for a free consultation.  Benjamin has successfully handled dozens of federal traffic cases including driving without a license, DUI, leaving the scene of an accident and failure to maintain control of a motor vehicle.  He has also defended numerous clients charged with possession of a firearm at a federal facility, resisting arrest, drug possession and open container in federal criminal court.