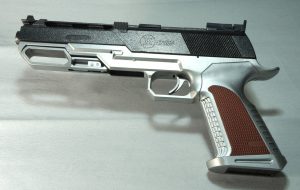 Maryland has some of the toughest firearm laws in the country, with harsh penalties for illegal possession and all out bans on many popular gun models. But the focus is not confined to working and operable firearms any longer, as legislation to ban toy and replica guns in now in the works in at least two jurisdictions within the state. The proposed bans did not come out of the blue, but rather were prompted by an incident in Baltimore City where a 13-year old boy brandishing a replica pistol was shot by a police officer that feared the replica was the real thing. Luckily the boy survived, but the two bullet wounds he sustained could have easily ended his life prematurely. While this potential disaster generated a good deal of press, there are likely hundreds of incidents each year where cops are placed in the dangerous position of encountering citizens with replica guns. Rather than hope their officers make the right split decision, Baltimore City and Salisbury want to take measures to assure their officers are no longer placed in this perilous position in the first place.
The Baltimore City Counsel recently introduced a bill that would ban ownership and possession of replica guns within city limits. The bill is specifically focused on replicas with largely similar characteristics of their real counterparts, which does not include toys such as water pistols and Nerf type guns. Rather it will focus on BB and pellet guns, as well as replicas that are the same size, shape and color as common handguns and rifles. The proposed law is not designed to throw kids in jail for carrying around plastic pistols, as city officials have suggested minor penalties for first and even second time offenders. Violators would face a civil citation and seizure of the replica weapon for a first or second offense, while criminal penalties could come into play upon a third offense. As it stands now a third time offender faces arrest, and then a maximum penalty of 30 days in jail and a $1,000 fine. Since this would be a city code violation the city attorney could be the office that ends up handling the prosecutions of these cases, though it is a little premature to speculate on this.
Officials in the city of Salisbury have also stated their desire to institute a ban on replica guns, which would likely be similar to the law in Baltimore. Salisbury legislators plan to hammer out the details of the proposed bill in the coming weeks. The Blog will update the progress of these potential city laws, and will post a follow up article if necessary. We will also monitor the 2017 Maryland legislative session to see if state lawmakers put replicas on their agenda.
Benjamin Herbst is a Maryland gun crimes lawyer who handles wear carry transport cases as well as firearm possession by a convicted felon or disqualified person charges in state and federal court.  Contact Benjamin for free consultation anytime at 410-207-2598.
Resources:
Baltimore City Council proposes replica gun ban, wbaltv.com