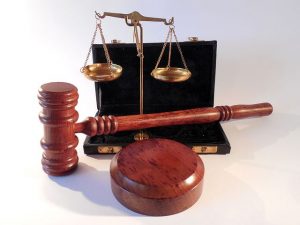 Last week the Chief Judge of the Court of Appeals issued an order extending the closure of all state courts to the public through May 1, 2020.  Anyone who had a criminal trial set in the Month of April will have their case automatically reset to a later date, likely in June or beyond.  This applies to circuit and district court trials, and any motions that require witness testimony.  Judges and court staff will still be working at courthouses around the state, and will be ruling on motions that do not require witness testimony or the introduction of evidence.  This includes motions to recall bench warrants and arrest warrants.  Anyone who has a warrant for a failure to appear or for a violation of probation should write to the judge or contact a lawyer to file a motion to recall that warrant.  This is not the time to be picked up on an outstanding warrant and taken to jail.
If a person happens arrested on a district court bench warrant, he or she will be taken before a court commissioner, who hopefully will order release on recognizance.  Defendants that are not released by the commissioner will be taken before a district court judge the next business day.  The defense lawyer and a prosecutor will be the only non-staff members to be permitted into the building for the bail review hearing.  Family members and witnesses will not be permitted to enter and attend the hearing.  Anyone arrested on a circuit court bench warrant will not see the commissioner, and be taken directly before a circuit court judge on the next business day.  The same rules apply in the circuit court regarding who may attend the hearing.  Maryland circuit courts will also conduct habeas corpus bail review hearings as normal, and in many cases the hearings will be set sooner than normal due to the circumstances.
In addition to bail reviews, the district court judges will also continue to handle body attachments and emergency evaluation petitions.  District court judges will also preside over new quarantine and isolation violations that the governor put in place.  District court commissioners will hear protective order petitions, and if granted they will remain in place as temporary protective orders until court is back in session.  District court commissioners will also hear bench warrant satisfactions, which means that if a motion to recall bench warrant is denied the defendant may report to a commissioner to take care of the warrant.  Any defendant who turns him or herself in with the commissioner may have an attorney present at the hearing.
Circuit court judges will continue to arraignments for detained individuals, peace order petitions where the respondent is a juvenile and juvenile detention hearings.  All juvenile reverse waiver transfer hearings will be postponed, and the time limitations will be waived.  Any incarcerated juvenile that is awaiting a reverse waiver transfer hearing may still file for a motion to transfer physical custody if their 18th birthday is approaching.  Some circuit courts are conducting video hearings for certain cases that do not require the defendant being placed under oath.  A case may be entered nolle prosequi or STET without the defendant physically being present in court.
The United States District Court for the District of Maryland also announced the postponement of all Central Violations Bureau proceedings.  CVB proceedings include misdemeanor, traffic and petty offense dockets that originated from citations received on federal property and at federal installations such as military bases.  This includes citations received at Fort Meade, NIH, NSA, Joint Base Andrews, Aberdeen Proving Ground and federally patrolled highways such as the BW Parkway and the Clara Barton.  All citation cases scheduled through May 31, 2020 will automatically be rescheduled for later in the summer or even the fall.
The Blog will continue to follow new developments coming from the state and federal courts, and will make a follow up post of the respective chief judges issue new orders.  Benjamin Herbst is a Maryland criminal defense lawyer who defends clients in all state and federal courts.  Benjamin handles federal citations, motions to recall bench warrants, bail reviews and new arrests for drug offenses, theft crimes, traffic citations, domestic violence, and firearm offenses.  He is available 7 days a week for a free consultation at 410—207-2598.