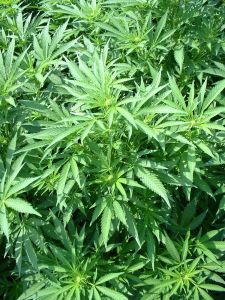 A Maryland man was arrested for multiple drug charges after police used a search warrant to raid his Ann Arundel County home. Ann Arundel police executed the search warrant and discovered approximately 46 marijuana plants, which ranged from 5 to 6 feet tall. Police did not release the exact details of what led them to the 53 year old man's home, but police did say that residents of the neighborhood had voiced to concerns to cops about possible drug activity going on in the house. According to police, the Maryland man was arrested for 9 drug charges including manufacturing marijuana, possession of marijuana with intent to distribute, and possession of marijuana. Manufacturing marijuana and possession of marijuana with intent to distribute are both felonies, while possession of marijuana is a misdemeanor. Police did not indicate whether they had any concrete evidence that the Maryland homeowner was actually dealing drugs, or if the marijuana grow operation was simply for personal use. According to police, the marijuana would eventually have a street value of over 50 thousand dollars once the marijuana was harvested.
Police also found over 20 firearms inside the home upon execution of their search warrant. The firearms, which included handguns, shotguns, and rifles were being kept by Ann Arundel police as evidence, although there is no indication that the guns were illegally owned or possessed. Police did say that the ATF was going to be called in to further investigate the collection of firearms. At the time of this article, the man has not been charged with any firearm, gun, or weapons crimes, and it appears that further criminal charges for weapons possession is unlikely. The guns were legally located within the Maryland man's home, and did not appear to be stolen. Police commented that the number of guns in the home was alarming, although there is no evidence that the man ever brought the guns outside of his home, or used any of the firearms in connection with any sort of crime.

This marijuana grow house case appears to be unique from most other suburban or urban growing operations, in that the Maryland homeowner was growing the marijuana plants outside in his backyard. The only thing that was obstructing the plants from being in plain view of the street was a 6 foot tall wooden fence. Most outdoor marijuana growing operations occur on home sites with multiple acres of land or heavily wooded areas, but this grow house was located on a small plot of land right off the street. Reporters interviewed multiple neighbors in the area, and none appeared to be aware or suspicious of any drug activity going on at the suspect's house, so there is a good chance that a passerby actually observed some of the marijuana plants and called police. Police could have used this evidence in addition to their own drug investigations to secure a search warrant. Police also stated that the house was in close proximity to Arundel High School, but did not have any evidence that the Maryland man was dealing drugs to students.
Benjamin Herbst is a Maryland drug lawyer, who specializes in marijuana crimes such as possession of marijuana, manufacturing of marijuana, and possession with intent to distribute. Contact Benjamin at The Herbst Firm for a free consultation.
Resources
Marijuana opperation discovered in suburban backyard, wcsh6.com.