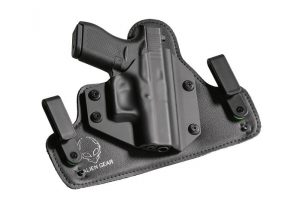 Nearly eight months ago the Supreme Court ruled that the carrying a handgun in public is a constitutional right protected by the Second Amendment.  In fashioning this ruling, the court declared that state and local governments shall issue concealed carry permits to qualified individuals who can satisfy objective requirements such as background checks and completion of gun safety courses.  The flip side is that the court did away with laws that gave state and local governments the ability to arbitrarily decide who may receive a concealed carry permit.  These "may issue" laws required a person to prove to the government that they were worthy of a permit, and denials were routinely handed out without further explanation.
Maryland was once a "may issue" state that required residents to prove a good and substantial reason to carry a gun, but since June the State Police has been ordered to issue permits to all qualified applicants.  Since the ruling there have been upwards of 80,000 concealed carry applications compared to 12,000 in all of 2021.  The spike in applications has been a major source of concern for some lawmakers in Annapolis who are now attempting to chip away at the Supreme Court's ruling.  Citing the exponential rise in gun violence and a suspected connection between an increase in legal gun purchasing with an increase in illegal guns on the street, so called public safety advocates have sponsored a bill that would restrict where a licensed individual can carry a firearm.  Senate Bill 1, which was debated this week, would criminalize the possession of a firearm within 100 feet of a place of public accommodation.  This new misdemeanor offense would carry a maximum penalty of 1 year in jail, and apply to all citizens regardless of permit status.  The new law would be codified under 4-111 and 4-112 of the criminal law article, rather than the Maryland public safety code where many gun laws are listed.
The obvious question is how the legislature will attempt to define "place of public accommodation", as the law rests entirely on this arbitrary definition.  As of now the definition of public accommodation includes inns, hotels, motels, restaurants, bars, movie theaters, sports arenas, concert halls and all other entertainment venues.  It would also include all retail establishments that offer goods, services, entertainment, recreation or transportation.  Basically, the bills authors tried to include all public indoor spaces and outdoor spaces where people gather to eat, shop or be entertained.  Anyone with time to kill could probably think of a place that the authors missed, but the definition seems comprehensive.  It might be more productive to think of the places that were left out, as the main ones appear to be parks and anywhere a person is in transit such as driving on a highway or walking down a sidewalk.  On the other hand, the provision that you cannot be within 100 feet of one of these establishments will create a host of issues.  You could hypothetically be breaking the law if you have your legal firearm in your vehicle while driving past a store, going to pick up food at and even walking down the sidewalk.  For this reason, the law as written stands very little chance of hitting the governor's desk.  Regardless, gun rights advocates showed up in force in Annapolis this week to protest, and the protests will only grow stronger if the law progresses.
The Blog will continue to follow this Bill and another similar ordinance in Montgomery County that is currently being reviewed by a federal judge.  We will post a follow up article as news develops on either of these fronts.  If you have a question about gun laws contact Maryland criminal defense lawyer Benjamin Herbst anytime for a free consultation at 410-207-2598.  Benjamin specializes in defending gun charges in all Maryland state and federal courts, and has successfully represented hundreds of individuals fighting against our harsh firearm laws.  Benjamin handles wear, transport carry offenses, possession of a firearm in a federal facility, minor in possession of a firearm and gun possession by a disqualified person.  Contact Benjamin today to find out how to best defend your gun charge.
Resources:
New Gun Restrictions Spark Debate in Maryland Legislature, fox5dc.com.