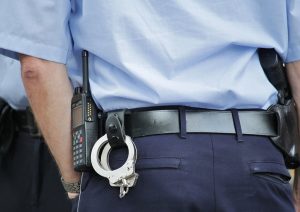 The U.S. Attorney's Office for the District of Maryland recently announced that a 37-year-old man from Waldorf has been indicted on federal charges of false impersonation of an officer and employee of the United States and possession of a firearm by a convicted felon.  Federal prosecutors also announced the man's co-conspirator, a 40-year-old woman from Baltimore, was charged with impersonating and officer and conspiracy to impersonate a federal officer.  The male defendant was held without bail, while the female was released on pre-trial supervision.  According to court documents and statements presented at the initial appearance, the charges stemmed from an incident that occurred back in March at a Prince George's County restaurant.  The male defendant was working as a security guard for the restaurant with his pet dog when he allegedly attempted to detain two individuals who disputed a bill.  At some point PG County police officers became involved and questioned the defendant regarding the firearm that was on his person.  The defendant justified his possession of said firearm by stating that he was a Deputy United States Marshal, though the officers were not so easily convinced, and arrested him for illegal possession of a regulated firearm and wear, carry or transport of a handgun.  He was originally charged in state court, but the Feds picked up the case due to the fact that he impersonated a federal law enforcement officer.
The plot thickened when the female co-defendant arrived on scene as the male was being taken into custody by Prince George's County Police.  The female allegedly showed up in full law enforcement garb, complete with tactical pants, handcuffs, a radio, an expandable baton and a handgun.  According to court documents she claimed the dog was her emotional support animal and questioned why the police were arresting a U.S. Marshal.  Her pleas were not met by much sympathy, as the male was taken to jail and the dog was impounded by animal services.  For some reason the female was not arrested by county police officers at the scene, and a short time later she made her way to animal services, once again in full police garb.  The female showed up in a police style vehicle and a black bulletproof vest, and identified herself as a U.S. Marshal to animal services employees.  She apparently presented an identification card with U.S. Marshal's insignia, which was convincing enough for animal services to release the dog to her custody.
Based on the evidence presented in the initial appearance, it seems federal prosecutors have ample evidence to sustain convictions for false impersonation, which is a felony with a 3-year maximum penalty.  Federal agents also executed a search warrant upon the male defendant's home, and seized firearms including an AR style rifle and a pump action shotgun.  As a result of his prior criminal record, the male defendant faces up to 10 years in prison for felon in possession of a firearm.  The female does not appear to have been charged with any firearm related offenses, but her alleged possession of a handgun will certainly be taken into consideration at a potential sentencing hearing.  In federal court especially, the judges focus on the statement of facts in its entirety and not simply the charge or charges that are part of the plea.  Judges in Maryland do not take unlawful possession of a firearm lightly regardless of whether the defendant has a prior criminal record.  It is interesting to note that the female could not have faced firearm charges in federal court because she did not possess the gun on federal property.  Federal law only prohibits firearm possession at a federal facility or possession by convicted felons or other disqualified individuals.  Further, the police did not actually arrest the female on scene, so there would have been no way to prove the handgun she possessed was actually a firearm.
The Blog will continue to follow this case and may post a follow-up article as the case proceeds through the trial process.  If you have been charged or are being investigated for a crime in Maryland or Florida, contact federal criminal defense lawyer Benjamin Herbst anytime for a free consultation.  Benjamin specializes in gun crimes for out of state defendants and Maryland residents alike including illegal possession of a firearm,  wear, carry or transport.  He has successfully defended clients in all Maryland counties from the Eastern Shore cities such as Ocean City and Salisbury to the Western Maryland jurisdictions of Frederick and Washington County.  Benjamin has won gun trials in Baltimore City, and Baltimore County as well as multiple other courts in the state and is standing by to fight for you or your loved one.  Whether it is for a bail review, violation of probation or the entire case, Benjamin is available at 410-207-2587 to discuss your defense.
Resources:
Waldorf Man Indicted Federally for Impersonating a Deputy U.S. Marshal and for Being a Felon in Possession of a Firearm, justice.gov.