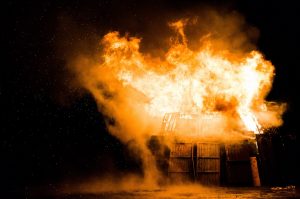 A Charles County grand jury recently found probable cause to indict a 21-year-old woman from Upper Marlboro for two separate fire-bombing incidents that occurred just over one year ago.  The first incident took place in Waldorf, where the Prince George's County woman allegedly threw a Molotov cocktail or firebomb in a homeowner's front yard.  The fire bomb in this incident apparently did not properly ignite, and no damage was reported.  However, the next night in St. Mary's County, police were called to investigate another incident where three fire bombs were ignited and thrown just feet from a residence.  The homeowner in this case reportedly heard noises outside, and upon opening the front door encountered a burning Molotov cocktail.  The homeowner was able to extinguish the burning destructive device without anything catching fire, though he also found two more devices that had already burned out.
Local police from Charles County and St. Mary's County, as well as the State Fire Marshal investigated the scene but were unable to develop suspects for several months.  After about five months the Marshals honed in on the defendant after reviewing phone records and social media posts, and an arrest warrant was issued in March.  The defendant was eventually arrested in May, and after being denied bail by the commissioner, was released by a Charles County District Court Judge on private home detention.  The case then stayed in the District Court for several months before being indicted, which is not the norm for cases in Maryland.  A defendant is typically indicted within 6 weeks of his or her arrest in a District Court case, though this defendant was indicted five months after her arrest.
The 21-year-old Prince George's County woman is now facing five criminal charges in the Circuit Court for Charles County, including attempted arson in the first degree, malicious destruction of property and possession or manufacture of a destructive device for the first incident in Charles County.  She is facing attempted arson in the second degree and destructive device charges for the second incident in St. Mary's County, though both are charged in the same indictment.  First degree arson is a serious felony offense that carries a maximum penalty of 30 years in prison.  While the defendant was charged with misdemeanor attempted arson in the first degree, she would theoretically face the same 30-year maximum penalty upon conviction.  In Maryland charges for attempt and conspiracy are both considered misdemeanor common law offenses, though the maximum penalties are the same as the underlying crime.  First degree arson is charged for burning or attempting to burn a dwelling or an occupied structure, while second degree arson is charged for burning or attempting to burn a structure in general.  Second degree arson still carries a harsh 20-year maximum penalty, though it scores significantly lower on the Maryland sentencing guidelines than arson 1.
Manufacture, transport or possess a destructive device is also a serious offense in the weapons crimes section of the Maryland code, which carries a maximum penalty of 25 years in prison.  It also scores much higher on the guidelines than arson in the second degree, so anyone convicted of this offense is at risk of being sentenced to state prison.  A defendant can be convicted and sentenced for arson and destructive device for the same incident, and the sentences can be consecutive.  Juveniles convicted of this offense also face suspension of their driving privileges, and mandatory restitution that must be paid by the parents.  The defendant in this case was also charged with malicious destruction of property, which carries a 60-day maximum penalty if the damage was less than $1,000.  The penalty jumps to a potential 3 years if the damage was more than $1,000.  Other common crimes charged in arson cases include malicious burning and threat of arson, though the defendant is not facing these charges.
The Blog will continue to follow this case and other cases involving arson, as the Firm specializes in arson defense and other fire crimes such as malicious burning and threat of arson.  Benjamin Herbst is a Maryland arson lawyer with extensive trial experience defending clients charged with first and second-degree arson, as well as destruction of property, malicious burning and possession or manufacture of a destructive device.  He has worked with some of the most experienced fire experts in the state and is well versed in the NFPA Fire and Explosion Investigation manual.  Benjamin has successfully defended dozens of adult and juvenile clients in Southern Maryland all other state and federal jurisdictions.  Contact Benjamin any time for a free consultation at 410-207-2598, and learn which defenses may be available in your case.
Resources:
Woman Charged After Two Separate Firebombings In Charles And St. Mary's Counties, thebaynet.com.