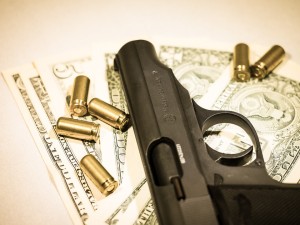 The second of two defendants who committed a 2018 armed robbery in Baltimore City was sentenced last week to 9 years in federal prison.  The 29-year old defendant was originally charged in state court with, but about 7 months after the robbery the Baltimore City State's Attorney's Office entered the charges nolle prosequi, which meant they declined to prosecute the case.  While a nolle pros. is usually a cause for celebration, in this case it was the opposite, as the case was dismissed in state court after federal prosecutors decided to take over.
As detailed in guilty plea, in February of 2018 the defendant and another Baltimore City man walked into a restaurant brandishing a firearm and demanded money from the cash register.  In addition to taking cash from the register and the tip jar, the defendants also took personal belongings at gunpoint from patrons at the restaurant.  After the defendants left the restaurant a 911 call to the Baltimore Police was placed and officers arrived on scene shortly thereafter.  One officer was canvassing the area of the robbery, and located two suspects in an alley counting cash up against a brick wall.  The suspects matched the description in the 911 call, and the counting money in an alleyway was certainly another cause for concern.  Both suspects were detained and searched, and police found $272 in cash, a bag of change, two masks, two bandannas, two cell phones that belonged to victims and a receipt from the restaurant.  Police also found a loaded handgun in the vicinity that matched the description a victim gave of the gun used in the robbery.
There was little question that police had detained and arrested the right suspects, and a show-up identification by the victims confirmed what police already knew.  The only questions remaining were who would prosecute the case, and how much time the defendants would receive.  Initially the case began as a Baltimore City District Court case, and a month after the incident the State filed a 25-count indictment in the Circuit Court for Baltimore City, which included charges for first and second degree assault, armed robbery, robbery, use of a firearm in a crime of violence and firearm possession by a convicted felon.  The charges regarding firearm use in a violent crime and possession by a convicted felon both carry 5-year mandatory minimum sentences upon conviction.  Either way the defendants were likely going to serve at least 5 years, but ultimately the feds decided they would prosecute the case.
Federal prosecutors eventually agreed to a plea to one count of armed commercial robbery, and the defendant avoided being sentenced to double digit years in prison.  Instead he will serve 9 years followed by 5 years of supervised release, which is the federal government's term for probation that follows a prison sentence.  The 31-year old co-defendant was sentenced to 10 years in prison not too long ago.
We have posted articles in the past about federal prosecutors picking up state cases involving handguns, and this is just another example.  The federal government has jurisdiction over any case involving the possession of a firearm by a convicted felon, and they also have jurisdiction over any commercial robbery.  Stores and restaurants are part of the stream of commerce, and as a result are visited by patrons from different states.  It is essentially the commerce clause that gives federal jurisdiction over crimes committed solely in one jurisdiction.  The Blog will continue to post about federal cases that originated in state court, and will offer commentary on this practice when appropriate.  If you have been charged with a gun crime or crime of violence anywhere in Maryland contact criminal defense lawyer Benjamin Herbst anytime for a free consultation.  Benjamin specializes in charges such as possession of a firearm by a convicted felon, armed robbery and assault in all state and federal jurisdictions in Maryland.  Contact Benjamin at 410-207-2598 anytime for a free consultation.
Resources
Baltimore Man Sentenced to Nine Years in Federal Prison for His Participation in an Armed Robbery of a Restaurant, justice.gov.