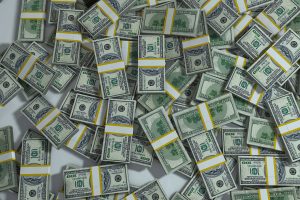 The Maryland governor recently announced that state casinos will no longer be prohibited from operating at full capacity under state law, but some local restrictions are still in place and revenues remain lower at all gaming establishments.  State orders had previously limited capacity to 50 percent at each of the six casinos around the state, a number that had been in place since December.  The state's largest casino, MGM National Harbor in Prince George's County, and the Horseshoe in Baltimore City are still operating at limited capacity per local government orders.  These two casinos had been operating at 25% percent capacity, and will continue with some restrictions for the foreseeable future.  In total, the state's casinos produced over $120 million in gross gaming revenue last month, but this number was down over 16% from February of 2020.
While profits are down across the state, the revenue numbers tell us a different story about social behavior in the COVID-19 era.  Despite capacity limits of 50% the gaming profits are down less than 17%.  This means the public have not proven hesitant to return to the casinos to spend their hard-earned dollars.  And since this is a criminal law blog, it also means criminal cases taking place on casino property are likely returning to pre-covid levels.  The most common cases that we have seen from the casinos are trespass and disorderly conduct citations.  Casino trespass cases usually begin one of two ways, with perhaps the most common cause being violations of the state's voluntary exclusion program.  A person who has placed themselves on the VEP list for two years or for life will be prohibited from returning to the grounds of the casino (not just the casino floor) indefinitely until they follow the steps required to be taken off the list.  Voluntary exclusion violations will result in criminal trespass citation being issued that comes with a mandatory court appearance.  Upon conviction a defendant faces up to 60 days in jail, a $500 and the possibility of a permanent criminal record.  The large majority (if any) of these cases do not result in jail time, but the consequences can still be severe for a person with a clean record who may have a security clearance, professional license and/or immigration issues. Casino trespass cases are also quite common for those individuals that have received a no-trespass warning by a member of the casino staff.  Upon violation of these warnings and individual can be cited and removed from the property.  In addition, a person who is cited for casino trespass would forfeit all of their earnings, even if they have a strong argument that the warning was insufficient.
Disorderly conduct and other petit offenses are also relatively common at casinos due to the heightened emotions of gambling and perhaps the heavy flow of alcohol, but for the most part the facilities maintain a relatively safe environment.  The casinos are equipped with sophisticated security systems and even facial recognition technology, and security does not hesitate to use these systems to initiate charges against a person.  The Blog will continue to follow the revenue numbers and incidents of crime at casino facilities across the state, and will post a follow-up article in the future.  Legalized sports gambling is around the corner in Maryland, and this will undoubtedly pump up the revenue as well as the crowds in all the casinos.  More people equals the potential for more trespass, theft, assault, theft and disorderly conduct violations, and we will be there for anyone who needs assistance.
Benjamin Herbst is a Maryland criminal defense lawyer who specializes in casino trespass and other criminal offenses such as theft, robbery, and drug possession.  He is available seven days a week at 410-207-2598.  Benjamin is also an experienced Florida criminal defense lawyer, who handles cases in Miami-Dade, Broward and Palm Beach Counties.  Call Benjamin's South Florida attorney number at 954-543-0305 for assistance at any time.
Resources:
Maryland Casinos Generate $126.2 Million During February, wboc.com.