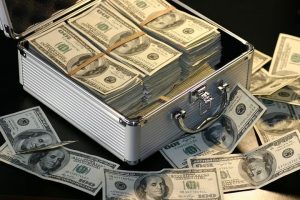 Back in March the Maryland House of Delegates passed a bill that would place legalized sports gambling in the hands of voters come November.  At the time wagering on sports was effectively prohibited under federal law in almost all states, but Maryland lawmakers had expected the day to come when the Supreme Court would put an end to the illogical ban under the Professional and Amateur Sports Protection Act (PAPSA). That day finally came yesterday when the nation's highest court declared PAPSA unconstitutional by a vote of 6-3.   We won't bore our readers with the technical nuance of the ruling, but a brief explanation should be helpful to those not inclined to tackle the 30 page opinion. We will also comment on the expected impact of this opinion here in Maryland, which to put it plainly will be enormous.
Yesterday The Supreme Court reiterated that it is not the business of the federal government to regulate the way state governments regulate their citizens.  PAPSA did not make sports gambling illegal under federal law, and in fact wagering on sports has never been a specific federal crime.  Rather, PAPSA prohibited states from establishing their own sports wagering industry by allowing the Attorney General and individual sports organizations to bring legal action against anyone operating sports gambling business outside of Nevada.  The Court basically told federal lawmakers that if they want to make gambling illegal then go ahead, but if not then states have the authority under the 10thAmendment to make the decision for themselves.
Sports betting is now legal in all 50 states (or more accurately is not prohibited under federal law in any state), so what will the impact be in Maryland? As usual we're starting off a little late to the game, as neighboring West Virginia has already passed sports gambling legislation and Delaware and New Jersey sports books will be up and running in no time.  But at least some of our lawmakers had the wherewithal to anticipate the SCOTUS ruling and start the ball rolling.  There will likely be a referendum on election day this year to officially legalize sports gambling at casinos and racetracks around the state, and there is no doubt that it will pass.  By 2019 we could see sports books opening at Laurel, MGM National Harbor, Maryland Live, The Horseshoe in Baltimore and all other licensed gambling establishments.  The main impact of legalized sports betting in Maryland will be the millions of dollars to spread around, though the profits may not be as high as people think as less than 5 percent of casino profits in Vegas are attributed to sports gambling.  But legalized wagering will bring increased traffic to the casinos and likely boost the already massive $1.7 billion in yearly revenue currently generated by Maryland casinos.  Casinos sports books don't simply generate revenue through bets, as they are entertainment destinations for gamblers and sports fans alike.
On a criminal law level the increased traffic to casinos will bring increased security and law enforcement presence.  Casinos already have quick trigger fingers when it comes to prosecuting individuals for trespassing, disorderly conduct and other misdemeanor offenses that occur on gaming floors and in numerous bars and clubs.   Dozens of people are arrested or criminally cited for crimes each week at popular casinos such as the MGM Grand in Prince George's County, and this number will rise as a new sector of customers begin to show up to place bets.  The number of voluntary exclusion trespass cases will also likely rise considerably when sports betting begins, so if you are on the list make sure you are taken off before attempting to reenter the grounds to place a bet on a game.
The Blog will continue to follow this groundbreaking decision, and the impact it will have in Maryland, so check back for an update.  Until then, if you have a question or a case involving the voluntary exclusion program, casino trespass, disorderly conduct or any other crime call Benjamin Herbst at 410-207-2598.  Benjamin has successfully represented numerous defendants charged with offenses at casinos across the state, and is available anytime for a free consultation.