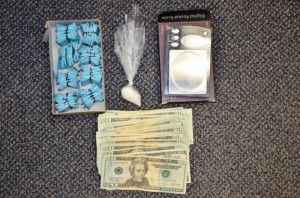 This week law enforcement officers from numerous agencies executed eight search warrants in Frederick County and Washington County, which yielded various drugs, cash and multiple firearms.  The warrants were executed at about 4 a.m., which means they were likely of the 'no knock' variety that in theory prevents the destruction of evidence and the possibility of suspects preparing for a confrontation with police.  Only two individuals were arrested as a direct result of the warrants, but more arrests will likely follow as police comb through the seized evidence.  A 48-year old man and a 40-year old woman from Washington County are both being held without bail on charges of possession with intent to distribute narcotics and possession with intent to distribute PCP.  The man is also charged with illegal possession of a firearm under Maryland statute 5-622.  This offense is a separate felony that carries a five-year maximum penalty, but unlike Maryland statute 5-621, possession of a firearm in a drug trafficking crime, it does not require a mandatory minimum sentence upon conviction.  The defendant may face additional charges as the case progresses to circuit court, which could include those that carry mandatory sentences.
The law enforcement agencies involved in the execution of the search warrants included the Maryland State Police, the Frederick and Washington County Sheriff's Offices, the Frederick Police and the Montgomery County Police.  In total, law enforcement seized over $23,000 in cash, over 2.5 pounds of cocaine, four handguns and large amounts of crack, PCP and methadone.  The amount of cocaine seized would clearly be enough to trigger drug trafficking charges, but there is no indication that the cocaine could all be attributed to one individual suspect.  Maryland statute 5-612 targets volume dealers, and provides a 5-year mandatory sentence for anyone convicted of possessing more than 448 grams of cocaine or crack, which is roughly equivalent to one pound.  The threshold is much lower for heroin (28 grams) and even lower for fentanyl (5 grams).  Marijuana, PCP and LSD are also included in the statute, which also carries a potential $100,000 fine upon conviction.
Going back to this specific case, the execution of 8 simultaneous search warrants indicates that this investigation was ongoing for months and likely included hours of surveillance and possibly confidential informants conducting numerous controlled buys.  A controlled buy is a common law enforcement tactic where police observe an informant engage in a drug transaction for the purpose of gathering evidence to use to obtain a warrant.  This is in contrast to a buy-bust, where police immediately move in to make an arrest after a drug deal has concluded.  Buy-busts are rare due to the obvious consequences of burning the CI and also creating a potentially dangerous and unpredictable situation.
The Blog will continue to follow this case, and any other arrests that follow due to these search warrants.  Frederick and Hagerstown have become drug trafficking hotbeds over the last several years due to increased drug use, and the proximity to Interstates 70 and 81.  As a result, both counties have established sophisticated law enforcement branches to directly target drug trafficking.  The High Intensity Drug Trafficking Areas or HIDTA is a federal funded program that has been in existence since 1988, and Frederick County joined the program in 2013.  The DEA is highly involved in the program, which doles out millions of federal dollars per year to assist with local drug trafficking suppression operations.  While Washington County is not directly part of HIDTA, they do maintain a narcotics task force.