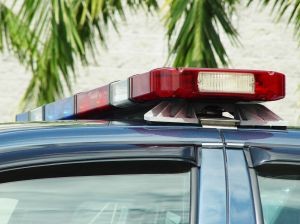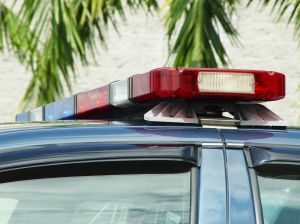 Earlier this week two Palm Beach County men were arrested for allegedly breaking into two Wellington restaurants and stealing cash and gift cards.  PBSO originally received a call reporting burglaries at the two restaurants on Sunday morning, and responding officers observed smashed windows and ransacked cash registers.  A short time later PBSO received another call about a theft, but this time it was from their neighbors down in Broward County.  The Broward Sheriff's Office apparently had one of their patrol cars go missing, and GPS pinged to a location in Palm Beach County.  Officers likely had no idea the two crimes were connected, but upon locating the stolen cop car and detaining the suspects the connection became clear.  Search incident to arrest revealed that the suspects possessed numerous gift cards from one of the burglarized restaurants, as well as cash and several suspected stolen credit cards.  The two suspects were taken to jail and booked on charges of burglary of an unoccupied structure, criminal mischief, grand theft of a motor vehicle and resisting arrest without violence.  One of the defendants, a 26-year old from Lake Worth, remains in custody, while the 30-year old defendant appears to have been released on bond.
It is unclear whether police have evidence that the two defendants actually stole the Broward police car, but both apparently admitted to being inside the vehicle.  Originally, they had fled from the scene on foot and were not arrested in the stolen car.  Upon being questioned, both reportedly denied any involvement in the burglary, though the gift cards and cash clearly gave police probable cause for the charges.  While both men are facing multiple felony charges, it appears that all the felonies are of the third-degree variety.  The incarcerated defendant is facing felony charges for corruption by threat against a public servant, in addition to the felony burglary, criminal mischief over $1,000 and grand theft charges.  Resisting an officer without violence is considered a first-degree misdemeanor under Florida law that is handled in county court unless there is an accompanying felony such as in this case.
The Blog will continue to track this case and may post a follow-up article in the future if anything newsworthy comes down from the courthouse.  It remains to be seen whether the pair will face any charges in Broward County, or whether the evidence recovered could lead to additional charges elsewhere.  The two suspected burglars should have been aware that all police cars and most commercial vehicles are equipped with GPS tracking systems that are extremely precise.  Once BSO realized that one of their vehicles went missing it was only a matter of minutes before it could be located.  It is unclear just how these defendants managed to come across a BSO patrol car, but details to this end will probably be released.  It's certainly an embarrassing situation when a police force allows one of its vehicles to be stolen, which is exactly why it presents a compelling news article to readers.  If you or a loved one has been arrested or has an outstanding warrant for burglary, grand theft, resisting arrest or criminal mischief contact South Florida criminal defense lawyer Benjamin Herbst anytime for a free consultation.  Benjamin is available to meet and take on cases in the Treasure Coast and in Palm Beach, Broward and Miami-Dade counties, and specializes in burglary and theft charges.  He has won numerous resisting arrest cases throughout South Florida and is also an experienced Maryland criminal lawyer who has successfully represented thousands of clients in charges ranging from DUI and drug distribution to murder and attempted murder.  Benjamin also specializes in firearm offenses such as illegal possession of a firearm by a convicted felon and carrying a concealed firearm.  Contact Benjamin at 954-543-0305 or 410-207-2598 to find out which defenses may be available in your case.
Resources
2 men arrested after 2 Palm Beach County restaurants burglarized, wptv.com.